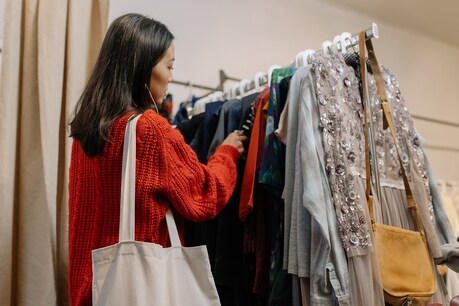 Wash before carrying a new dress or else infection may occur- Image credit / pexels-cottonbro
Wearing new dress gives everyone a pleasant feeling but some precautions must be taken before carrying a new dress.
Everyone has an interest in wearing a new dress (interest), but some people carry the dress in haste without taking any precaution. While some work must be done before carrying the new dress, otherwise you may have to face many problems. Let us know about the things that must be done before carrying a new dress.
Sanitize
Be it any type of dress whether it is casual or party wear, branded or local, it should be sanitized first. This time the Corona era is going on, so this work is very important. But even when it will not be round, do not forget to sanitize the dress. This is important because these clothes go through the hands of many people, from being manufactured in the factory to reaching the shop. Also, they are tried by many people even before buying them. In such a situation, it is possible that not only corona, any kind of viruses and infection can reach you through them. Therefore, it is important to sanitize the clothes.
Also Read: Age 25 or 50, kurta also gives killer look, it is also best for festive season
Carry only after washing
Before carrying any kind of dress, it is necessary to wash it. If the dress is a party wear and cannot be washed at home, then a dry clean can also be done. In fact, many types of chemicals are used in the packing of clothes, so that they can be protected from insects. Wearing them without rinsing can cause any skin problem due to these chemicals. Along with this, the problem of leaving the colors of clothes also comes sometimes. If you carry a new dress without washing, clothes can be left on your body if you get wet in sweat or rain. So carry a new dress and wash it, it will save you from being a joke in front of others and will also help in avoiding skin allergies.
Button and chain check
When you carry a new dress, you think it is a new dress, so everything will be perfect in it. But sometimes there is no button in the new dress or after wearing the dress, the thread is removed due to the thread being loose. A dress chain can also be defective. Therefore, before carrying a new dress, it is important to check the buttons and chains thoroughly. So that you can avoid being embarrassed in case of such a sudden situation in front of people.
Also read: Follow these tips for girls to look stylish in the summer season
Get the fitting done and also do the sewing check
It would be better if you get the fitting done before carrying the new dress. Because sometimes the dress looks fit in the trial room because we are in a hurry but when we carry it comfortably at home it can become loose or unfit. Also, the stitching of any dress is also weak, which starts to open only after carrying the dress. Therefore, it is important that the new dress is fitted before carrying and its stitching should also be strengthened.(Disclaimer: The information and information given in this article is based on general beliefs. Hindi news18 does not confirm these. Contact the concerned expert before implementing them.)