Karthik Aryan (Instagram @KartikAaryan)
Fans of Kartik Aaryan eagerly wait for their films. In such a situation, recently, the actor Corona was found positive. Now Karthik has shared a special post for fans.
new Delhi.
Bollywood actor Karthik Aryan is very famous among fans due to his films and his funny style. Soon, Kartik Aaryan's new film 'Dhamaka' (Dhamaka) is going to come in front of the fans. Meanwhile, there was a report of Karthik being Corona positive. Now after being corona, the actor has shared his photo. In this photo, the actors are surprised by the look of the actor.
Karthik shared his photo on his Instagram and wrote that since Kovid, everything is looking upside down. 'Good morning.' Karthik is shown doing the handstand in this photo and a bag is also seen near him. It seems that the photo is from the time of exercise. Karthik Aryan has told the fans that he has faced trouble due to being corona. This actor's post is fast becoming viral on social media.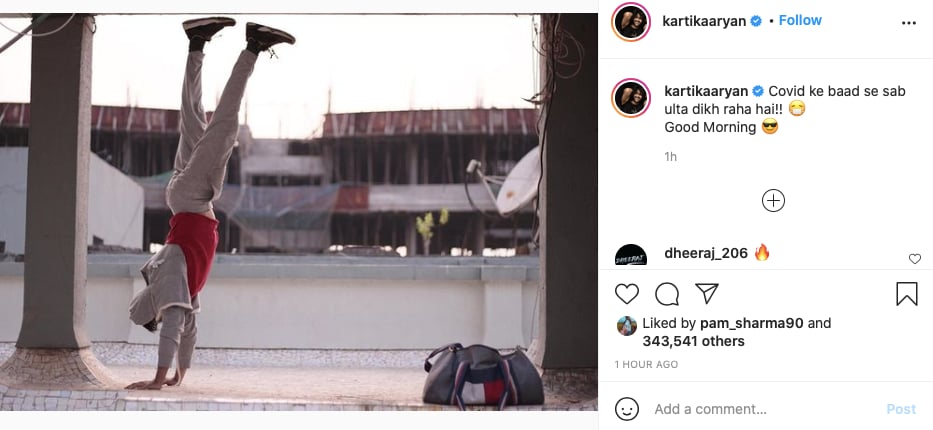 Karthik Aryan's new film 'Dhamaka' is going to come in front of the fans. (Instagram @Kartik Aaryan)
Karthik himself shared this news on his social media account. Karthik has shared the picture of a big plus sign saying, 'Be positive, pray it.' In the post, he asked the fans to pray for recovery from Corona. Talking about the workfront, Karthik has taken a fee of Rs 20 crore for working 10 days in 'Dhamaka'. While the actor took Rs 1.25 lakh for his first film Pyar Ka Panchnama. In Maharashtra, Corona is once again taking a macabre form. The film and television industry is the most victim of this. After stars like Ranbir Kapoor, Sanjay Leela Bhansali, Manoj Bajpayee, actor Karthik Aryan has been found to be Corona positive. The shooting of the film 'Bhool Bhulaiya 2' was stopped after Karthik's report came.