Mumbai.
Actor Rajinikanth, who has also won his acting from South Film Industry to Bollywood, will be honored with Dadasaheb Phalke Award. Rajinikanth, who has ruled the cinema for the last 5 decades, will be honored by the 51st Dada Saheb Phalke Award. On the social media of this news coming out, people started congratulating him. He is also receiving a lot of congratulations from Bollywood. Many celebs including Akshay Kumar, Anil Kapoor, Hrithik Roshan, Karan Johar have congratulated him.
Hrithik Roshan (Hrithik Roshan), who worked with superstar Rajinikanth at the age of 6, has congratulated him for this honor. She shared an old photo and tweeted and congratulated him.
Hrithik Roshan wrote- 'My dear Rajinikanth sir .. Your aura and personality appreciate the reputation of Dadasaheb Phalke Award. I am so happy that you have found another reason to celebrate your greatness. Lots of love and respect to you, I will keep watching your greatness'. Along with this, he has also created an emoji connecting hearts and hands. Hrithik worked with him in the 1986 film 'Bhagwan Dada'. In this film, Hrithik Roshan was seen as a child of superstars Rajinikanth and Sridevi. In the film, Hrithik appeared in the character of Rajinikanth and Sridevi's adopted child. In this film too, he showed his brilliant dance skills and at a very young age he was seen sharing the screen with the big names of the film industry.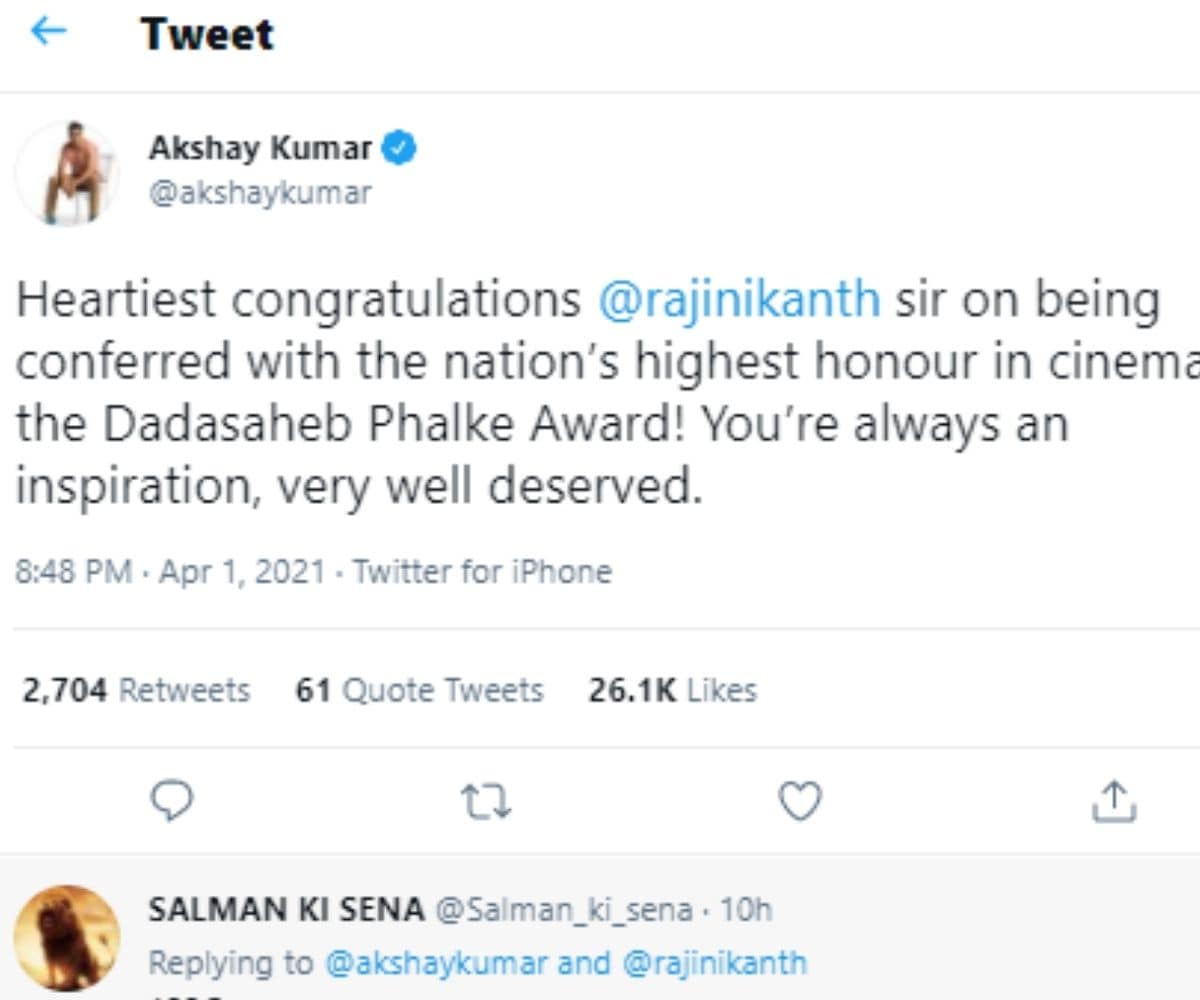 At the same time, Akshay Kumar wrote- 'Dadasaheb Phalke Award … hearty congratulations Rajinikanth sir on being awarded the highest honor of the nation in cinema. You have always been an inspiration and deserves it well. '
Anil Kapoor, who worked with Rajinikanth in the 2000 film 'Bulandi', also congratulated the megastar in a tweet. He wrote, 'Congratulations, Rajinikanth on the prestigious honor! You are an icon and an inspiration to all of us.
Let us tell you that Rajinikanth made his debut in 1975. He has been around 46 years in the entertainment industry. Rajinikanth is the 12th South Indian to have received this award. Earlier, people like Dr. Rajkumar, Akkineni Nageswara Rao, K. Balachander have been given this award.
Talk about the workfront, Rajinikanth has done more than one film so far. His list of superhit films includes 'Robot', 'Kabali', 'Chennai Express', 'Dharma Dorai', 'Linga', 'Baba', 'Kala' among many names. Rajinikanth's fans are in crores and always call him by the name of 'Thalaivaa'.