Pakistani actress Saba Qamar has been seen in Irrfan Khan in the film 'Hindi Medium'. (Photo courtesy: Instagram / sabaqamarzaman)
Saba Qamar, the co-star of Irrfan Khan's film Hindi Medium, has informed fans about her engagement breakdown on Instagram. Please tell that his fiancé Azim Khan (Azeem Khan) has been accused of sexual harassment.
New Delhi
There was news from some time back that Saba Qamar, the co-star of the late actor Irrfan Khan, is going to tie the knot soon. But recently, this Pakistani actress has given information about breaking her engagement. Now she is breaking up the marriage with her fiancé Azim Khan. Saba has shared this post on social media and has told her fans about it. Please tell that Saba has worked with Irrfan Khan in the film 'Hindi Medium'.
Saba has released a statement about her marriage on Instagram. She writes in the post, 'Hello, I am going to tell a very important thing. Due to personal reasons, I am breaking engagement with Azim Khan. Now we are not married. I hope you guys will support my decision, as you have always been doing. I think it is never late, if you come to know the truth in time. I also want to tell all of you that I have never met Azim Khan in my life. We were only connected to each other via phone. This is a difficult time for me, but it will also pass. Insha-Allah. Lots of love to all of you.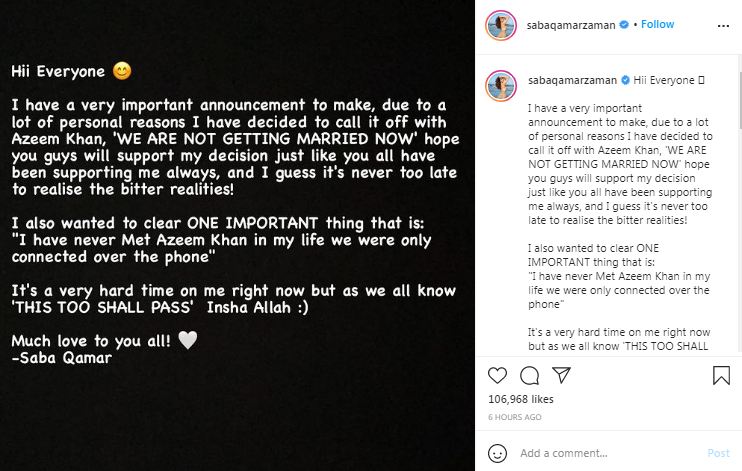 (Photo courtesy: Instagram / sabaqamarzaman)
Azim Khan has also reacted to Saba Qamar's post. Sharing Saba's post, he wrote, 'They have not told the story on my side. Yes, it was my fault. Ever since a woman accused Azim Khan of sexual harassment, they have been in controversy. This accusation comes after announcing the engagement of Saba. Explain that while sharing a video on social media, Azim had denied all the allegations as wrong. Then Saba also came in his support. He commented on Azim's video, 'I believe in you. They also shared a heart emoji together. On the allegations of sexual harassment, Azim Khan said, 'I want to thank all those people who have supported me in the last two days and expressed their love. There are some people who are saying the wrong things about me. I want to answer them through video. The only thing I want to say is what it means to put status on social media. Let's talk face to face in the right way.