Malaika Arora said that she does three important things to stay fit .. (Photo courtesy: malaikaaroraofficial / Instagram)
Seeing the beauty and fitness of Malaika Arora (Malaika Arora), it is difficult to guess their age. Malaika sweats heavily for this and follows her routine.
Mumbai.
Model and actress Malaika Arora's social media account is littered with photos and videos of her gym and exercise. This is also the secret of the beauty of Malaika. Actress rules are very restrictive of law regarding health and fitness. The actress is often seen sharing her fitness videos and posts on social media, giving fans healthy and fit tips (Malaika Arora Fitness tips). Malaika posted a beautiful photo of her and told that she does three important things to stay fit.
Malaika Arora has shared a photo on Instagram account, sipping coffee from the cup. In this photo, the actress is seen wearing a gray colored satin night dress. It seems from this photo that their day is beginning. In such a situation, the actress honestly informed the fans about her routine on this occasion. Malaika Arora, while sharing a post, has told how you can stay healthy. Malaika wrote, 'The right start of the day, doing workouts and eating clean things, these three things are the most important for a healthy life. We cannot underestimate the strength of any one of these, but what do you think is the most important of these three?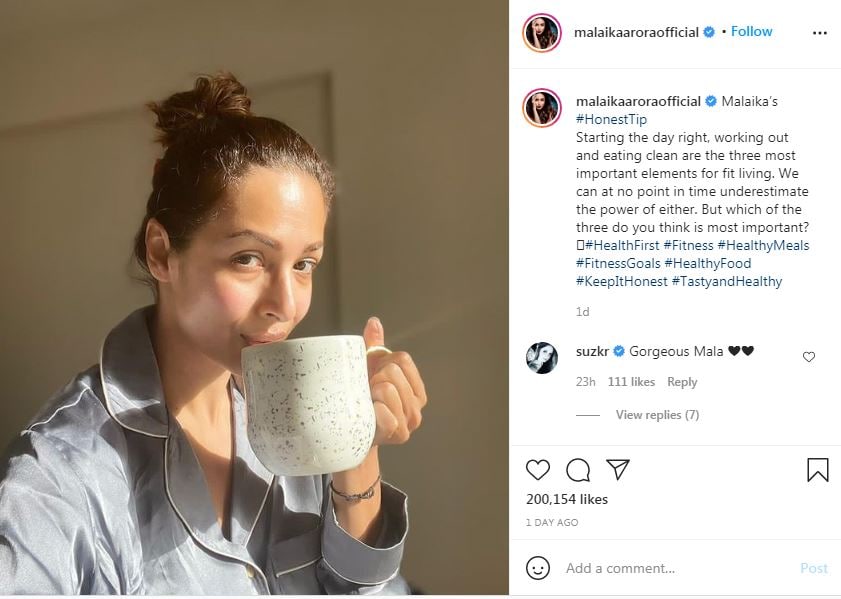 Commenting on this post, Hrithik Roshan's X Wife and Malaika Arora's Best Friend Suzanne Khan wrote 'Gorgeous Mala', along with this, shared Heart's emoji. Even before this, Malaika shared her photo on Mundar on Chakrasan on Instagram, which became very viral.
Malaika Arora has also got corona vaccination done. Bollywood actor-actresses are also taking great care in view of the rising case of Kovid-19 in Maharashtra and especially in Mumbai.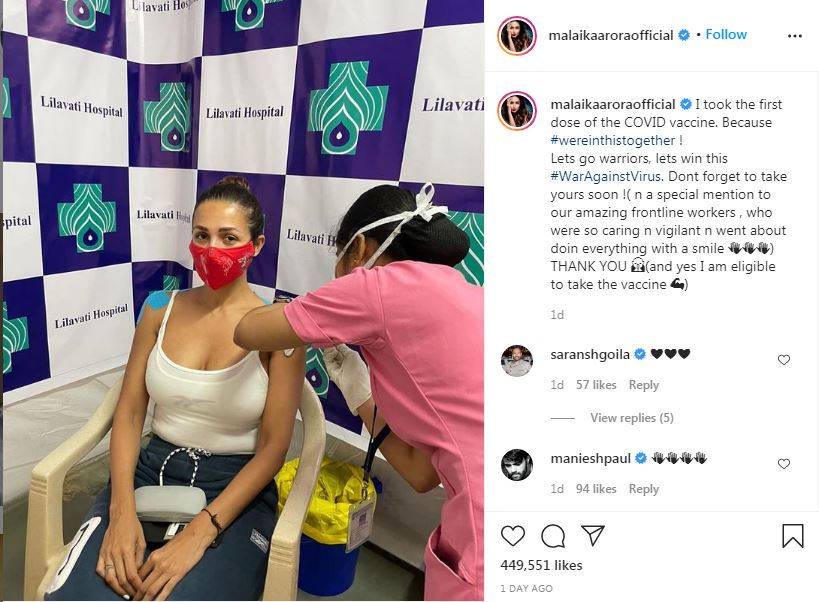 Malaika shared a photo taking the first dose of the Corona vaccine. At the same time, everyone was requested to get rid of the corona by getting the vaccine as soon as possible.