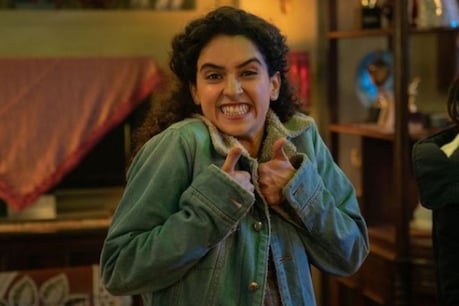 Sanya Malhotra's reaction to Kangana's tweet. (Photo courtesy: sanyamalhotra / instagram)
Sanya Malhotra's work in the film 'Paglait' is being praised a lot. Kangana Ranaut has made a tweet for Sanya, which the actress is very happy to read.
Mumbai:
Bollywood queen Kangana Ranaut praised the work of Sanya Malhotra, there was no place for Sanya's happiness. Actress Sanya's recently released film 'Paglait' is very much liked. His acting in this film is also being praised. Actress Kangana Ranaut also tweeted a tweet praising Sanya's work. In this, Paglat has expressed his love, praising the work of the actress. Actress Sanya also became very happy after seeing Kangna's past.
Actress Sanya Malhotra told how she felt while reading Kangana's tweet. Talking to Hindustan Times, Sanya said that 'she is my senior in the industry. I am a big fan of his, he gets a lot of inspiration from him. His tweet praising my work was a big news for me and my family. Reading that tweet, my hands were trembling. It seemed to me that Oh my God … like this …? I could not believe it. I am grateful to this beautiful tweet of him '.
Please tell that Kangana Ranaut wrote in tweeting, 'These are fantastic, I am very happy that Sanya's talent is being recognized. I heard about the release of 'Paglat' on Netflix which is doing very well. Sanya is very happy for you. You get this, rather than it, more love from me, " she said.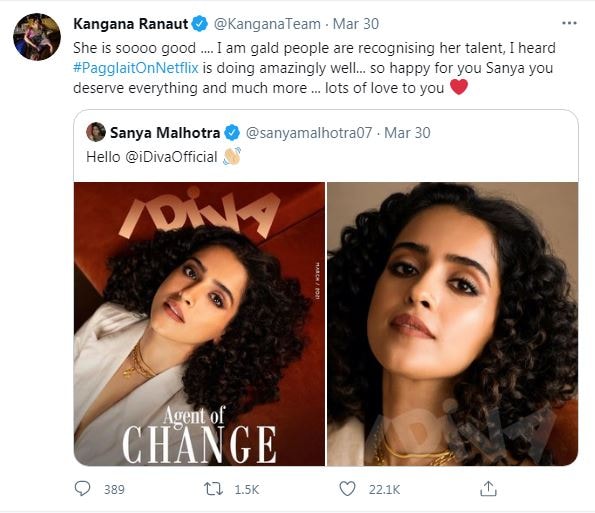 Sanya also replied to Kangana and wrote, 'Thank you. Congratulating Kangana with these words, she put a heart emoji and expressed her gratitude.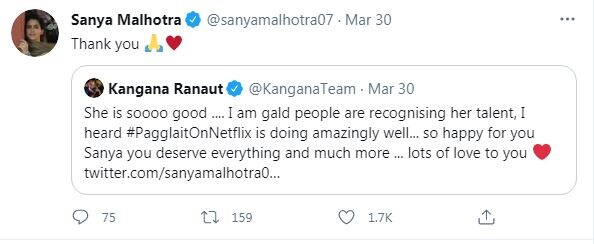 Let us know that the film 'Paglat' has been released on Netflix on 26 March. This film is the story of the emotion of a middle class family. In this film, apart from Sanya Malhotra, Sayani Gupta, Shruti Sharma, Ashutosh Rana, Raghubir Yadav, Sheeba Chadha are in the lead role.