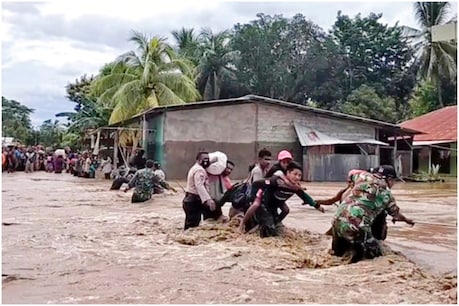 Indonesian disaster officials say at least 72 people are missing (photo-AP)
Landslides in Indonesia: At least 128 people died in Indonesia and 27 in East Timor due to heavy rains caused by tropical storms.
Lembata (Indonesia).
Rescuers also continued on Tuesday to search for about 21 people buried under the debris following a landslide in a remote area of ​​eastern Indonesia. Several villages were affected in Sunday's landslide in the Lenbata Islands due to inclement weather in the southeast Asian nation and neighboring East Timor. According to Indonesia's National Disaster Mitigation Agency, at least 67 people have been confirmed dead.
Hundreds of police, soldiers and residents, with the help of hands, shovels and spades, removed the debris for a buried search. These efforts were interrupted due to heavy rains. Relatives of the missing people were seen weeping and crying while taking out a corpse sunny in the mud and taken for burial.
At least 128 people died in Indonesia and 27 in East Timor due to floods caused by heavy rains due to tropical storms. Thousands of homes were damaged and thousands of people were displaced in disasters which are becoming increasingly frightening as the storm continues to affect the region for several days, moving south towards Australia.
Also read: Shiv Sena-NCP fears split due to resignation of Anil Deshmukh, CM Thackeray in troubleIndonesian disaster officials said at least 72 people were missing. Rescue efforts are being affected due to the weather and remote areas being affected. Roads and bridges have been damaged in many areas.