In Rudraprayag, Uttarakhand, the locals rescued Maina from the electric pole after 24 hours.
A video of Makkumath of Rudraprayag district is going viral, in which a bird Maina was taken out of the electric pole by the local people with their understanding.
Last Updated:April 8, 2021 10:01 PM IS
Rudraprayag
It is said that Jako Rakhe Saiyan, could not kill anyone. This has been proved true in Makkumath in Rudraprayag district. Where the Myna bird, trapped in an electric pole, was rescued alive after 24 hours. The video to save Maina has gone viral and this video has been brought to you by News18. In this, a bird myna fell inside an electric pole on 6 April. At first no one paid attention to this. But on April 7, when the sound of myna screaming came from inside the pillar, people informed the forest department about it. But departmental officials also did not consider it necessary to take any action for a bird.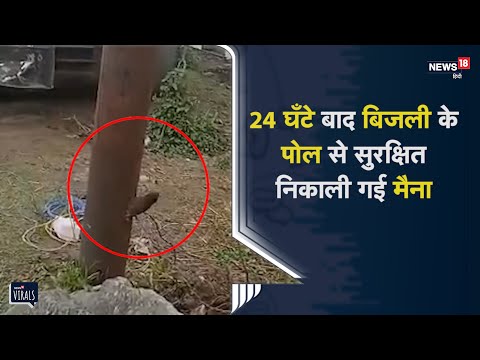 When no one reached to rescue the bird from the forest department, the local resident Bhuvan Chandra Maithani himself took the initiative and with the help of a cutter, a small window was cut on the pole. Oddly enough, Maina came to this window after a while. For a while, Maina sat at the window and looked around and then flew into the open sky as usual. Perhaps she did not even believe that she would be saved.
Uttarakhand Forest Department keeps running many rescue operations for the wild life trapped in crisis, but in this case it might not have even hoped that this could happen. Forest officials are also appreciating this effort to save a bird. JS Suhag, Chief of Uttarakhand Wildlife Department, Forest Chief Rajiv Bhartari has praised this sensibility of the local people regarding the wild life. Uttarakhand is currently facing a fierce forest fire. So far 17 animals have died due to forest fire. There is no data of wildlife in this. So far, an area of ​​19 hundred hectares has been hit by fire.