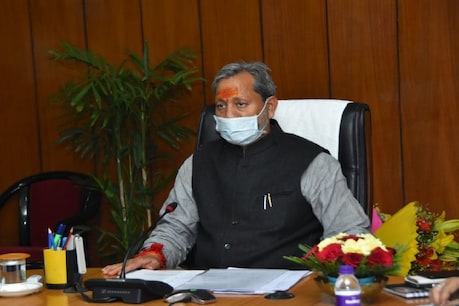 The CM said during the press conference that the royal bath was organized with full security.
On the comparison of Haridwar Kumbh to the social media, CM Tirath Singh Rawat said that this is wrong. He was in a hall and the royal bath of Kumbh has been organized at 16 ghats.
Haridwar. A large number of devotees took a royal bath on Somvati Amavasya on Monday in the ongoing Kumbh in Haridwar. Photos of the crowd gathered at the ghats during the royal bath became fiercely viral on social media. People also criticized it by comparing it to the Markaz at the Nizamuddin Dargah in Delhi in 2020. But Uttarakhand CM Tirath Singh Singh Rawat gave it a smooth answer during the press conference and said that Kumbh cannot be compared to Markaz. He said that Markaz was inside a hall. People used to sleep in the same hall. There are 16 ghats in Kumbh. Not only Haridwar, Kumbh extends from Rishikesh to Neelkanth. People are taking bath at a right place and there is a time limit for this as well. How can it be compared with Markaz?