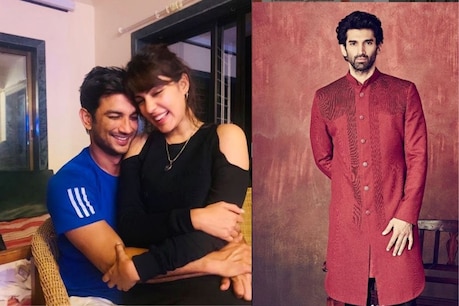 Sushant's friend Smita Parikh's big reveal. (Photo courtesy: rhea_chakraborty adityaroykapur / Instagram /)
Since the death of the late actor Sushant Singh Rajput, there have been many such revelations that surprised people. Now once again Sushant's close friend Smita Parikh has made a similar disclosure.
Mumbai:
Late actor
Sushant Singh Rajput
'S friend Smita Parikh has been raising her voice against Riya Chakraborty ever since Sushant's death. Now through social media posts, Smita has once again written such things about Riya which is pointing to her mysterious past. Smita has claimed that Riya Chakraborty was dating Aditya Roy Kapoor before Sushant.
Tweeting from her Twitter handle, Smita Parikh wrote, 'Riya was dating Aditya Roy Kapur before meeting Sushant. When he left Riya, how did he manage, with the help of the soul who lived with him. How fallen a woman can be. How many people have you told this story to yourself. Is a dangerous person roaming freely? Riya was sent to Sushant's life. Commenting on this post of Smita, a user asked about the soul she was talking about. To this, Smita replied that 'She often used to say that her childhood friend had passed away at the age of 17 and now she is with him. What a pity.

Explain that Aditya Roy Kapoor's name also appeared in Riya's call details in the investigation that took place after the death of Sushant Singh Rajput. According to the information received, Riya and Aditya were also spotted together several times between the years 2012 and 2014, but this revelation of an affair between them has surprised everyone. Riya Chakraborty has made a comeback on social media about 9 months after Sushant's death. Recently, he has shared a photo of himself reading Rabindranath Tagore's book Gitanjali.