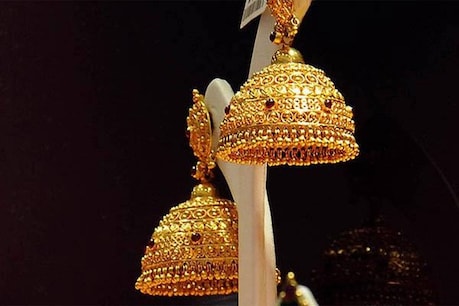 10,000 rupees per ten grams has come down
Gold Price Today: Last September, the price of gold reached the highest level of Rs 56,200 per ten grams. Now the prices have dropped from there to close to Rs 46,000 per ten grams. In this sense, gold has become cheaper by Rs 10,000 so far.
New Delhi.
There is a continuous decline in the gold price in the Indian market. Today, even in the early trade, gold prices have remained around the 10-month low. On Tuesday, gold futures on MCX fell 0.41% to Rs 46,400 per 10 grams, while silver futures fell 1.26% to Rs 66,140 per kg. In August 2020, gold reached a record level of Rs 56,200. Since then, gold has become cheaper by about 10000 rupees.
Due to the continuous decline in the price of gold, the demand for gold has increased in both rural and urban areas. Gold is also being purchased for marriage. The number of customers increased significantly. If gold prices fall further, gold sales are expected to increase on both online and offline platforms. According to the India Bullion and Jewelers Association, the demand is increasing. The fall in prices has increased the interest of customers in shopping. The economy is also opening up, due to which people are looking at gold as a long-term asset class.
Gold Prices (Gold Price, 13 April 2021): Gold price reached Rs 46,400 per 10 grams in Sarafa Bazar on Tuesday. During the last trading session, gold slipped 0.03 percent to reach the level of 46,580 per 10 grams.
New Silver Prices (Silver Price, 13 April 2021): A sharp drop in silver prices was observed on Tuesday. Silver futures fell 1.26% to Rs 66,140 per kg in bullion market. At the same time, the precious metal has fallen 0.15 per cent to Rs 66,884 per kg in the last trading session.Experts' opinion
Experts believe that if you want to buy gold and silver, this may be the right time. Gold prices have also slipped below Rs 46,000 per 10 grams. Gold price on MCX has come to the level of May 2020. At the same time, silver on MCX is expected to remain above the level of 68500-68000. According to experts, there is a possibility of a surge in silver, which can go up to the level of 70000.
This way you can check the purity of gold
If you want to check the purity of gold now, then an app has been made by the government for this. With the 'BIS Care app', the customer can check the consumer's purity (Gold). Through this app, you can not only check the purity of gold but also make any complaint related to it. If the license, registration and hallmark number of the goods are found wrong in this app, then customers can complain immediately. Through this app (Gold), the customer will also get information about filing a complaint immediately.