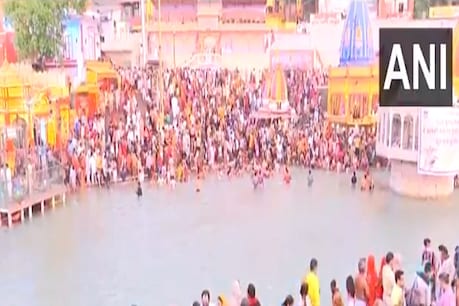 Violation of the Corona guidelines became a matter of concern during the Kumbh Mela in Haridwar. (File)
Haridwar Mahakumbh: So far, about two dozen sages and more than 500 devotees have been found infected in Haridwar Mahakumbh. Just think how many of the devotees who have come to Mahakumbh will be infected and have come in contact with some who are going to prove to be 'corona bombs' when they return from here.
Haridwar.
Despite repeated warnings, there was apprehension that Haridwar Mahakumbh Super Corona Spreader event is coming out as frightening. The figures of corona infected before the royal bath started in Mahakumbh and after the royal bath are going to create concern for everyone, not just the government and the system. According to the figures so far revealed in Mahakumbh, about two dozen saints and more than 500 devotees associated with the akharas have been found infected in the investigation. These figures are after investigation of only a few thousand people, while the Mahakumbh claims to have bathed more than 31 lakh people on the royal bath. On Wednesday too, about 14 lakh people took the Kumbh-Snan. Just think how many people will be infected and how many people will be infected among the devotees who reached the Mahakumbh and how big corona bombs are going to be proved when they return from here.
It is true that every religious event has its own importance and there is a lot of faith in the Indian public towards Mahakumbh. But there is no religion like epidemic or disease like corona. In this era of epidemic where everything from temples, mosques to school-colleges, religious and social events are closed. There is a ban on bathing in rivers and ponds. More than 10-20 people are banned in marriage, death, mayyat. In such times, the governments and systems of the Mahakumbh in Haridwar, where every royal bath is to gather millions, had to consider the magnitude of the epidemic before organizing it. But in contrast, in Mahakumbh, the system is completely failed and the rules of Kovid are seen flying.
Central government warned
Explain that the Central Government had also warned the Uttarakhand government that Haridwar Kumbh could prove to be a corona spreader, but the Chief Minister of the state Tirath Singh Rawat was confident that he would be able to complete the entire Mahakumbh with success. He also claimed to give Corona bath to a crowd of lakhs of devotees at Mahakumbh under the ambit of Kovid protocol. He also criticized those who compared Mahakumbh to the incident of Nizamuddin Markaz in Delhi in 2020 and said that Markaz was inside the hall, while Kumbh is happening in the open. Not only Haridwar, it has spread from Rishikesh to Neelkanth, Ganga Maiya will not allow anyone to be corona.
Central government warned
read ahead