(File photo)
Ever since Corona has wreaked havoc in the country, Sonu Sood has been engaged in helping people since then. Sonu Sood has shared this tweet a while back. The actor, who shared the tweet, wrote, "The biggest lesson of the epidemic is, to save the country and build a hospital."
Mumbai.
The situation is becoming uncontrollable due to the Corona (Covid 19) epidemic in the country. There is a lack of basic facilities in hospitals. There is a huge shortage of oxygen cylinders and beds in hospitals. In this way once again
Sonu Sood
People have come out as messiahs. #SonuSood is trending the most on Twitter at the moment. Actually, ever since Corona has wreaked havoc in the country, Sonu Sood has been engaged in helping people.
Sonu Sood Has shared this tweet a while back. The actor, who shared the tweet, wrote, "The biggest lesson of the epidemic is, to save the country and build a hospital." There is also a hint from the tweet that Sonu Sood Hospital can also be opened soon for help. However, he has not confirmed this. This tweet of Sonu Sood is getting a lot of headlines on social media, as well as the audience is giving fiercely responses to this tweet.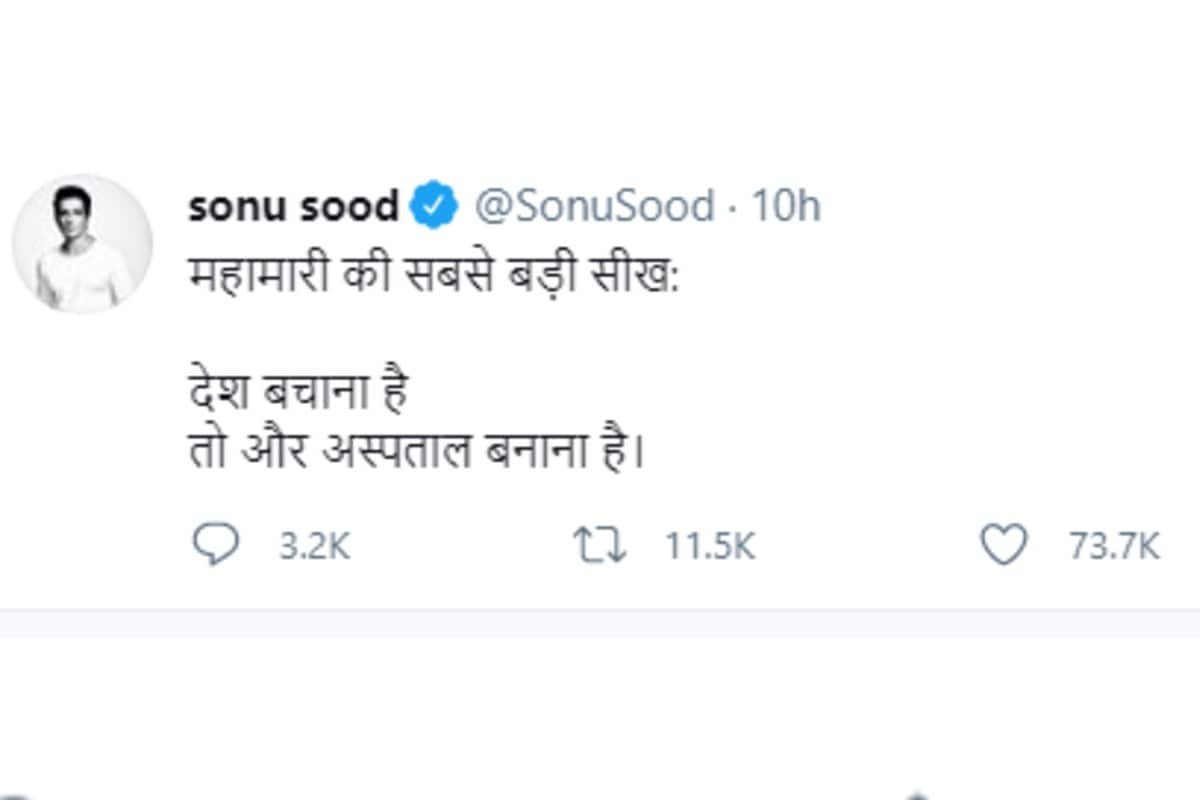 Photo courtesy: @ SonuSood / Twitter
Please tell people Social Media (Sonu Sood Twitter) Nobody hesitates to ask for help from the actor through and the actor also does not disappoint any needy. Now they have come forward to help the people of Indore (Sonu Sood Indore), where the situation is very bad due to Corona. According to media reports, they have transported 10 oxygen cylinders to a hospital in Indore. Due to increasing cases of corona infection in Indore, basic facilities have been lacking. There is a shortage of oxygen cylinders in hospitals. When Sonu came to know about this, he sent 10 oxygen generators to help a hospital. Some videos of Sonu are going viral on social media, in which he is seen wishing good health to the people of Indore. Together they are also telling about this issue.