Karthik is no longer a part of Karan Johar's 'Dostana 2'. (Photo courtesy: Instagram / kartikaaryan / Karan Johar)
Ever since the news of actor Kartik Aaryan's release from 'Dostana 2' (Dostana 2), they have started trending on Twitter. The actor's fans have come out in support of him openly. Many users of social media have started to boycott 'Dostana 2' and Karan Johar.
New Delhi.
Kartik Aaryan signed on to play the lead role in Karan Johar's "Dostana 2" alongside Janhvi Kapoor. However, it was revealed today that the producers of the film , Is planning to replace the actor. According to media reports, the actor had objected to the script of the film Dostana 2. Apart from this, Karthik's talent agency was not giving him a date for the film. So the production house Decided to remove the actor from the film. Soon after this news, the actor's fans started trending #KartikAaryan on social media.
Karthik had already shot extensively for 'Dostana 2' in Mumbai and Chandigarh. Now there are speculations that the makers of 'Dostana 2' are planning to take Rajkumar Rao in the film. It has been heard that before Karthik, Rajkummar Rao was approached about the film. Well, now fans are strongly opposing Karan Johar and his production film 'Dostana 2'.

(Photo courtesy Twitter @ sidnaaziansssssh)
According to the news, the makers can also offer the film 'Dostana 2' to Vicky Kaushal, who is already shooting for Dharma Productions 'Mr. Lele'. This film is being directed by Colin de Konha. 'Dostana 2' will launch Lakshya in Bollywood. Jahnavi and Lakshya will be associated with this film, but it remains to be seen who will replace Karthik. Right now, Karthik is trending on Twitter. Thousands of fans are tweeting in support of the actor.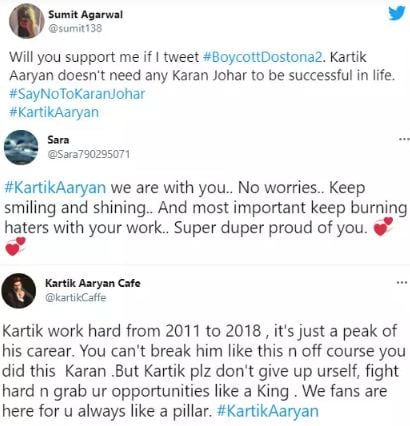 (Photo courtesy: Twitter @ sumit138 @ Sara @ KartikCaffe)
On the big screen, Karthik Aryan will soon be seen in the horror comedy Bhool Bhulaiya 2. Kiara Advani is the lead actress in this film being directed by Anees Bazmee. Apart from this, there are reports of Karthik joining up with filmmakers like Om Raut and Hansal Mehta.
Recently, the actor was Corona Positive. Now they have recovered from the infection. Karthik Aryan was eagerly waiting for his report and as soon as his report came negative, he immediately informed the fans on his social media. Karthik shared a photo of himself on his Instagram and said that his corona report had come negative. The actor also indicated to return to work.