Aamir, Akshay and Sonu Sood were infected after applying Kovid 19 vaccine (Photo courtesy: Instagram / aamirkhanproductions / sonu_sood / Akshay Kumar)
There are reports that claim that Aamir Khan, Akshay Kumar, Paresh Rawal, Ashutosh Rana, Sonu Sood, Covid 19 Vaccine vaccine Corona was infected after being installed.
New Delhi:
As the corona infection increases in the country, there is an increasing competition among people to get Covid 19 Vaccine. Bollywood stars are not far behind in this. Many celebs have also posted their videos getting vaccinated, so that the vaccination campaign can be promoted and their videos and messages can also inspire the general public to get vaccinated. But, along with this, the number of stars being corona positive has also increased. Last month, Aamir Khan came to Corona positive. But, it is reported that 56-year-old Aamir Khan became Corona positive after getting the first dose of Corona vaccine. The same is being said about actor Sonu Sood.
The news of Akshay Kumar getting corona infected was also in the news. According to the news of ABPlive, Akshay Kumar also took his first dose of Corona before becoming Corona positive. After taking the first dose, there were reports of him being corona positive. Like Aamir, Akshay also did not promote the matter of getting the Corona vaccine. That is why people did not know that both had got the first vaccine of Kovid 19. But, soon after coming to Corona positive, both of them had given information to their fans. Now the name of Sonu Sood has also been associated with these stars, who have come under the grip of the virus after taking the vaccine. Only last week, Sonu Sood got Corona vaccinated in Amritsar.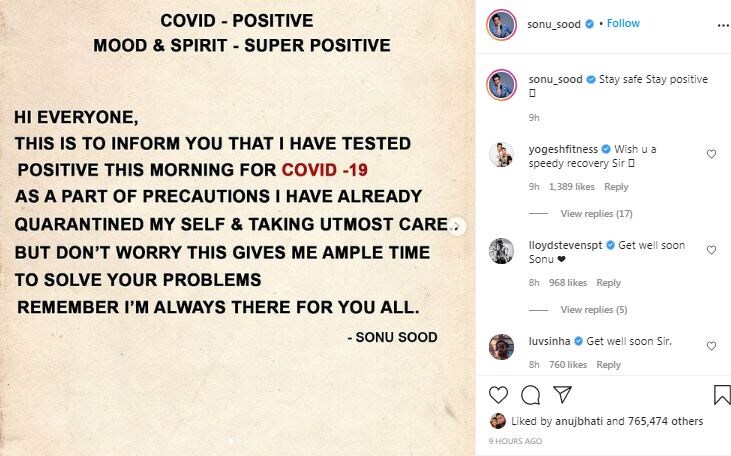 (Photo courtesy: Instagram / sonu_sood)
A reliable source from Bollywood said, 'The news of both Aamir Khan and Akshay Kumar taking the corona vaccine is confirmed and after that the corona report of both came positive. More such cases are coming up in Bollywood. Please tell that after being infected with Corona, Aamir was in the home quarantine, while 53-year-old Akshay Kumar was hospitalized for a week. Now both celebs are healthy. Akshay Kumar is currently at home. Actor Paresh Rawal was also found to be Corona positive after taking Corona's vaccine. Paresh Rawal and his wife Swaroop Rawal had informed about the first vaccination of Corona through social media. Later he also told about getting infected with Corona. Now they are fine.