Bollywood may move towards bio bubble shoot on the lines of IPL (file photo)
In a letter to Maharashtra Chief Minister Uddhav Thackeray, some film makers have appealed that the film industry should be exempted from shooting. The possibility of a bio-secure bubble shoot on the lines of IPL is being explored.
New Delhi.
Last year, due to the lockdown, the work of shooting films and TV shows was stopped for a long time. Due to this, the entertainment world has suffered a great loss. Now, in view of the increasing cases of Corona (Covid 19), the government has again banned the shooting, but some filmmakers are appealing for relaxation in shooting. He has written to CM Uddhav Thackeray (Uddhav Thackeray) and requested to give permission for this. This has increased the chances of a shoot with a bio-secure bubble.
It is understood that if the lockdown goes ahead, film makers can move towards shooting on the lines of IPL. They will need the government's permission for this. The second wave of Corona has affected almost all the business of the country. The entertainment world is not untouched by this.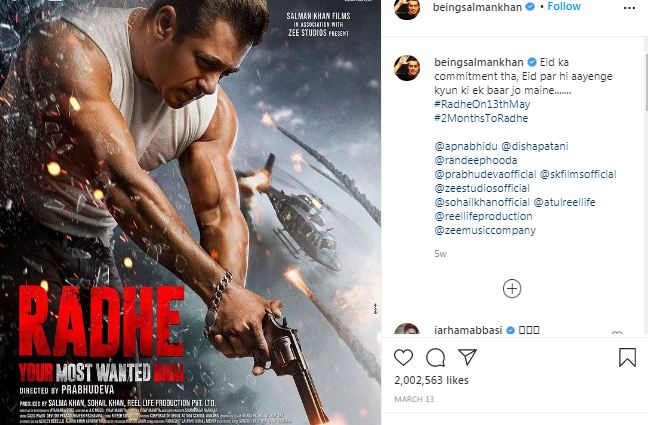 (Photo courtesy: Instagram / beingsalmankhan)
However, the film industry wants some concessions for shooting from the government to avoid further losses. According to media reports, they are also trying for this and on the other hand are also considering a bio bubble shoot. This will provide a way for the makers to shoot in a safe environment. Just like the matches are happening in IPL without audience, the shooting will also be limited to a limited number of people in a certain area. According to media reports, FWICE General Secretary Ashok Dubey says, "If the lockdown goes ahead from May 1, we will appeal to CM Uddhav Thackeray to allow him to shoot in the bio bubble." Some big studios are shooting outside Maharashtra, who cannot do this, they can adopt IPL format.