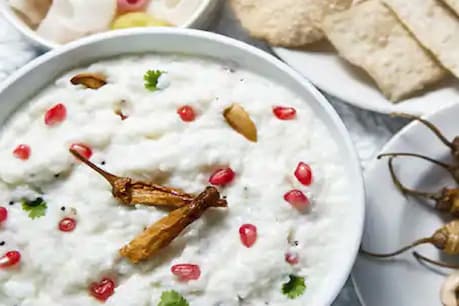 Curd rice is a famous dish of South Indian. It has a lot of health benefits.
Know Curd Rice Benefits- Curd rice is eaten mainly in India, its origin is also from here. It is used as staple food in South India.
(Vivek Kumar Pandey)
Know Curd Rice Benefits- For the past days, I have been constantly discussing about the heat. In this, I have mostly paid attention to what to drink to dissipate heat. But, today we also discuss some food. Summer days are going on and many times the weather is also changing its attitude. In this case, it is not a big deal to have stomach problems.
The second attack of Corona is going on and people are being appealed to stay in their homes. In such a situation, walking etc. is also getting reduced. So, you should use a special drink for drinking, but at the same time there should be such things in the food, which are better for both stomach and heat. So let's talk about curd-rice i.e. curd rice.
Also read: 'Pyaar Mohabbat Sorbat' will provide relief from the scorching heat of DelhiBy the way, this is looking very simple dish and it is also easy to make. There are some things that are used to temper it with just yogurt and rice. Even if there is nothing, only curd rice is also enough. Also, after adding green chilli and coriander, just add mustard and chilli tempering to it.
Curd rice is eaten mainly in India, its origin is also from here. It is used as staple food in South India. It is widely consumed in Tamil Nadu, Kerala, Karnataka, Telangana and Andhra Pradesh as well as Maharashtra. Its tempering type definitely changes slightly.
To make it, mix boiled rice in sour curd. After this, temper it with urad dal, rye, ginger, cumin and asafoetida. A red chili also enhances its flavor. Add salt to it as per your taste. Dahi-rice is ready. It can be tasted with breakfast and lunch.
Its spiritual significance is also considerable. It is offered as Prasad in many temples in South India. Due to its sattvik qualities, it has got a place in temples. Along with the stomach, it is also much better for your health. You can place it in your kitchen now, one or two days a week.