Kangana Ranaut on Ramadan. (Photo courtesy: kanganaranaut / instagram- Narendra Modi / twitter)
Kangana Ranaut is known for her reaction to every issue. Whether the matter is related to the country or the film industry, Kangana does not fail to express her opinion.
Mumbai:
Bollywood's famous 'Panga Girl' actress Kangana Ranaut is once again in the headlines. On social media, very active Kangana is the first to tweet on every issue. Kartik Aaryan and Karan Johar have now come to the discussion about the Ramadan festival with their post on the film 'Dostana 2' (Dostana 2). Known for her impeccable style, the actress has said to stop the meeting on the occasion of Ramadan.
Actually, the government is very upset about the rapidly growing corona cases in the country. Every exercise to stop this is seen to fail. The infection is spreading rapidly due to the congestion happening during the election and Kumbh. There is increasing frustration and dissatisfaction among the public about this. In such a situation, Prime Minister Narendra Modi tweeted and wrote, 'Acharya Mahamandaleshwar Pujya Swami Awadheshanand Giri ji spoke on the phone today. Know about the health of all saints. All the saints are giving all kinds of support to the administration. I thanked the saint world for this'. In another tweet, PM Modi wrote, 'I have prayed that two royal baths have taken place and now Kumbh should be kept symbolic due to the crisis of Corona. This will give a strength to the fight against this crisis.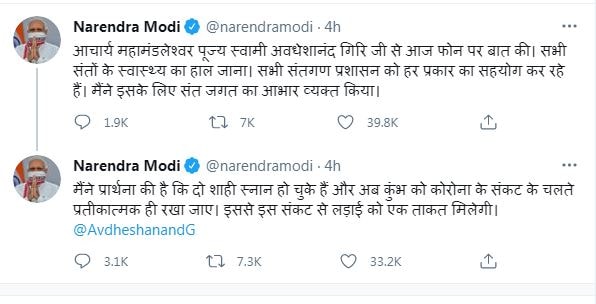 On this PM's appeal, Bollywood actress Kangana Ranaut appealed to PM Modi and tweeted, 'Honorable Prime Minister, please request you that the meeting ceremony in Ramadan after the Kumbh Mela should also be banned.'

After this tweet by Kangana Ranaut, some Twitter users also started trolling them. However, Kangana's tweet is no longer visible on social media.