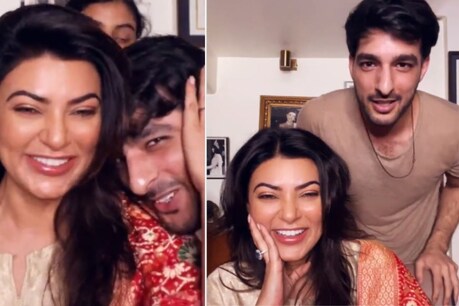 Sushmita Sen's live session. (Photo courtesy: sushmitasen47 / Instagram)
All the rumors about the breakup of Sushmita Sen and her boyfriend Rohman Shawl are just rumors. Sushmita Sen silenced everyone by showing a glimpse of their relationship during a live session on social media.
Mumbai: Bollywood actress Sushmita Sen is known for her strong acting as well as strong personality. Sushmita is one of those celebs who live their lives on their own terms. Recently, Sushmita was awarded the 'Champion of Change' award. Happy with this, Miss Universe did a live session with the fans on social media. During this, Sushmita introduced all her family members including Rohman Shawl.
Sushmita Sen's style while performing a live session on her official Instagram was fantastic. Sushmita first told that she is able to meet her fans after a long time due to being busy shooting for her upcoming film Arya. Along with this, while advising everyone to take precaution in the corona epidemic, the actress said that 'Jaan hai to jahan hai', so stay safe.
After this Sushmita said that 'I received this award for social welfare and women empowerment. I know that my father would feel very proud at this time because he worked as an officer of the Indian Air Force for many years'. Sushmita introduced fans to her entire family as well as her boyfriend during the live session. With this, Rohman's pole was also opened. Sushmita told that while Rohman was shaving in the morning, suddenly she shaved some part of her hair too. In a short while, Rohman showed everyone his hairstyle. Both looked very happy together. During the session, Sushmita also introduced her two daughters Reni and Alisha.
On this live session of Sushmita Sen, the fans are not only congratulating the actress but also praising her. Apart from films, beautiful actress of Bollywood Sushmita Sen is also very much discussed due to her personal life.