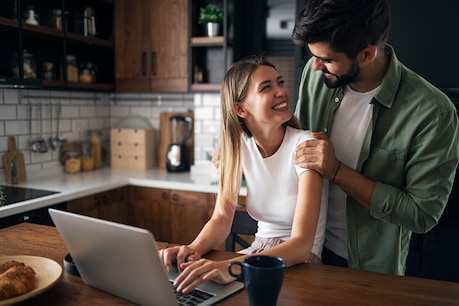 How to create happy life at work from home. Image / Shutterstock
While there are many facilities from Work from Home, there are many problems also. There are also home-office work pressure and many other challenges that Couples are facing.
The risk of Coronavirus Infection has not yet been postponed. Once again, it is rapidly making people a victim. This is the reason why most companies are getting their employees from work to home, so that they and their family stay safe. In such a situation where both the husband and wife are working, both are at work from home. While there are many facilities, many types of problems are also coming out. There is also the pressure of work from home and office and its challenges to work in this changed system, which Couples are facing. In such a situation, by adopting some tips, you can not only create an office-like environment for work at home, but it can also help to remove the bitterness in relationships.
Keep aside personal life
The most important thing is that even if we are at work from home at home, but try to keep our personal and professional life separate. That is, the way we used to separate the work of home and office at the time of going to office, do the same during work at home. Set the time for both tasks. This will keep mutual relations better and will not cause any dispute.
Also read – You are a working woman, manage household and office tasks like this, enjoy lifeTake a break but don't work, enjoy it
Just like you take a break in the middle of work in the office and spend fun time with your colleagues and friends, likewise, while working at home, take a break in between work and talk with your partner. You can take tea, coffee or whatever you like. This will reduce the pressure of work and will also avoid mental stress. During this break, you can share each other's hand in household work or you can have some moments with your children. In this way, the mood of both of you will be fresh and there will be no tantrums.
Focus on work at work
When you are doing work from home, take full care to focus on your work at work time. So that you are not disturbed mentally and can do the job well. Many times, even while working, we sometimes get entangled in household chores, responsibilities and this has an effect on our work. This leads to annoyance and all the anger gets out on his partner. Avoid this Do not blemish your partner if any work gets ruined.
Also read – If you are a housewife then follow these rules for Happy Life
Become each other's support
During work from both, keep yourself mentally strong and keep in mind that the circumstances have changed for both of them, which is necessary to keep pace. Working couples also have to understand that on the one hand the risk of corona infection is becoming the cause of stress, while in this changed environment the pressure of work is on both. Therefore, understand these situations and be supportive of each other. This will not put pressure on any one. This will make the relationship sweet and there will be prosperity in the house.