Shahid and Meera's cricket love. (Photo courtesy: mira.kapoor / Instagram)
Shahid Kapoor's wife Mira Rajput expressed her opinion about IPL Match 2021 in a fun way.
Mumbai:
All the fans of cricket are enjoying IPL 2021 matches these days. In the midst of the epidemic of Kovid-19, people are spending more and more time at home these days. In such a situation, the ongoing match is no less than a boon for the cricket fans. Bollywood actor
Shahid Kapoor
He is also one of these people. Shahid is fond of cricket and is going to appear in the role of a cricket player in his upcoming film Jersey. But here we are not talking about Shahid or his film, but are talking about Mira Rajput. Whose craze for cricket was seen differently.
Actually, Shahid Kapoor's wife Meera Rajput has shared a photo collage sent by one of her fans on her Instagram. In this photo, the names of IPL teams are written on every photo of Meera. Meera Rajput is seen in these photos in different dress and different style. Shortcut names of Chennai Super Kings, Delhi Capitals, Kolkata Knight Riders, Mumbai Indians, Punjab Kings, Rajasthan Royals, Roy Challengers Bangalore and Sunrisers Hyderabad are written. While sharing this photo on Insta Story, Meera wrote in the caption 'When my husband is watching IPL 20 … and me'.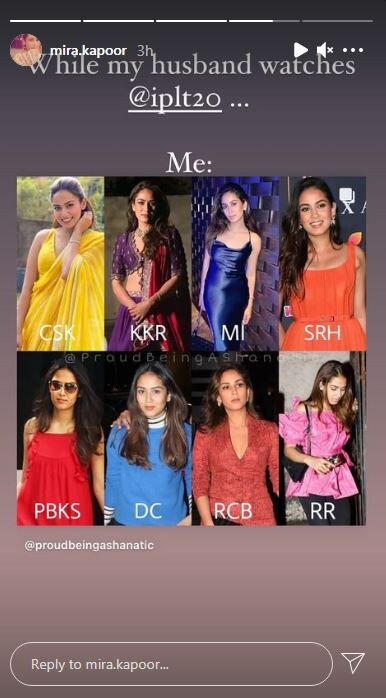 Earlier, during a press conference, Shahid Kapoor talked about the film 'Jersey'. The actor had told that this is a personal film, the story of Human Journey and I have been very impressed by it. It is an emotional film. Apart from this, while telling about his cricket love, Shahid said that 'I started playing cricket from school days. I used to think that I am a better player. Playing for fun is a different thing, but when it comes to the role of a cricketer, then you should get all the technical of this game, for this you have to spend a lot of time in practice. I am also engaged in some similar efforts'.