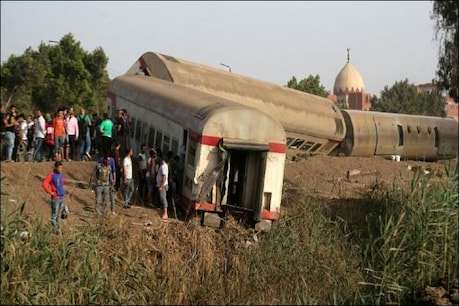 Photo hundred (CNN)
A horrific train accident occurred in Egypt on Sunday. In this, about 11 people died and 98 people were injured.
Cairo
A train derailed in Egypt's capital Cairo on Sunday, killing at least 11 people and injuring 98 people. The officers provided this information. The railway authority said in a statement that eight coaches of the train derailed in Banha town of Kalubia province, north of Cairo.
Videos of the accident have surfaced on social media, in which the coaches of the train are overturned and the passengers are seen exiting. This train was going from Mansura, the city of Nile delta, to Cairo, the capital of Egypt. The Health Ministry said that 98 people were injured in the accident and the cause of the accident was not immediately known.
Also read: Hong Kong banned Indian flights due to Corona, all flights suspended till 3 May
Let me tell you, recently there was another train accident in Southern Egypt. About 32 people died in this horrific train accident, while 66 people were injured. The accident took place 365 km south of the capital Cairo, near the town of Tahata in Sohag province. This accident happened in central Egypt when someone put an emergency brake on a train, which stopped the train. Due to this, the second train coming from behind collided with it. Officials said that another train was also coming on the same track in the same direction. The collision was so strong that many coaches of the train overturned in vain.