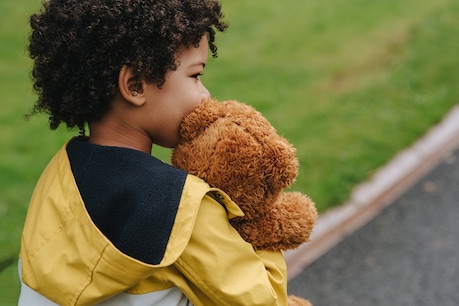 Cleaning of soft toys with other toys is also necessary- Image credit / pexels-anete-lusina-5240516
Tips To Wash Kids Toys In Covid Time- Cleaning of all kinds of toys is also very important during the Corona era. Therefore, do not ignore the cleaning of toys. Wash soft toys like cotton, cloth and foam also from time to time.
Tips To Wash Kids Toys In Covid Time-
Cleanliness should always be taken care of and during the Corona period, it has become more important to take care of cleanliness many times. In such a situation, children's toys cannot be ignored. Especially soft toys with cotton and foam. Sometimes we wash the rest of the toys, but people find it difficult to clean the soft toys. Therefore, people ignore their cleanliness which can prove to be harmful for your child. In fact, due to lack of cleaning for a long time, many types of viruses can occur in these toys. Which can reach your child's body during play. To avoid this, cleaning of soft toys is also very important. Let us explain how soft toys like cotton, foam and cloth can be cleaned.
Do this preparation
Soft toys take a lot of time to wash and dry, so you will have to prepare it in time. First of all, after seeing the size of the toy, decide how much water the toy can be immersed in, because soft toys will have to be immersed in a solution of detergent powder for some time. For this, first dissolve mild mild detergent powder in warm water. Add a little anti-bacterial liquid like Dettol or Sevalon to it. After this, immerse the toy in this water for 20-25 minutes.
Also read: Keep these things in mind when buying toys for children
Cleaning toys like this by hand
If you want to wash the toys by hand, first take the toys out of the detergent powder water and gently rub it with a soft bristles brush with light hands. After this, wash with clean water in several rounds. In the last round of washing, wash this toy by adding a little Dettol to the water.
How to clean toys in the washing machine
If you want to wash in a soft toys washing machine, take out the toy from the detergent powder solution. After this, put the toy in the machine, reinsert a spoon of detergent powder and a lid dettol and wash the toy by setting delicatet mode.
Also read: Never keep these things in the children's room, it can be dangerous
Dry toys like this
When soft toys are washed, they become very heavy because water is filled in the cloth, cotton and foam. Therefore, keeping the toy size in mind, keep it in the sun for at least 5-7 days to dry. When it becomes lighter when dry, give it to the child to play. (Disclaimer: The information and information given in this article are based on general beliefs. Hindi news18 does not confirm these. The expert concerned before implementing them Contact.)