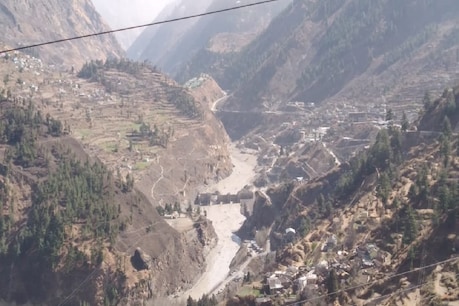 In the Chamoli district of Uttarakhand, the destruction of the glacier had caused great havoc in the past. (File photo)
Incident near the India-China border, fear of major accident, Border Task Force gave information about the breaking of the glacier. However, there is no news of loss of life or property.

Chamoli
In Uttarakhand, there is news of a major glacier breaking once again. The army has confirmed this. The commander of the Border Road Task Force, Colonel Manish Kapil, said that a large glacier has broken on the India-China border near Joshimath in Chamoli district. According to the information, this glacier is broken between Malari and Sumna near ITBP's 8bn post. It is being told that it is very big and due to this a big accident can also happen. It is being told that the water level of the Rishiganga river may rise due to its breakdown. Due to which serious problems can occur.
However, there is no information about loss of life and property. But on receiving the news of the accident, the ITBP jawans have become alert and the low lying areas are being monitored.
Getting worse weather
In the rural areas including Pauri and Srinagar Garhwal, there has been heavy rains with hailstorm. Due to the continuous rain for three days, the temperature has come down. The district has recorded the highest rainfall in the last 24 hours in the Thalisain, Pauri and Srinagar regions, while the rainy season continues continuously. The weather patterns have changed completely for the past two days in Pithoragarh. After a long time, the high altitude areas of the district received snowfall in the month of April. After the snowfall in and around Munsiyari, there has been a huge drop in temperature. Along with Munsiyari, snow has fallen very close to Rajarambha, Panchachuli, Khaliatop and Kalamuni. At the same time, the rain continues in the low-lying areas.
Significantly, on the morning of February 7, the Rishiganga Valley in Chamoli district was flooded due to the breaking of the glacier. Many people died in this natural disaster. Relief and rescue operations were carried out for several days. The 13.2 MW Rishiganga Hydroelectric Project was completely destroyed due to the floods while Tapovan Vishnugad suffered extensive damage.