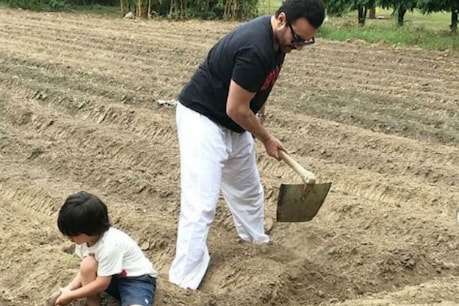 Saif Ali Khan was seen sweating in the field with his son. (photo dredits: kareenakapoorkhan / Instagram)
Kareena Kapoor Khan has shared the photo on social media. In these photos, Saif Ali Khan is seen sweating in the field with his son Taimur.
Mumbai.
Bollywood actress
Kareena Kapoor Khan
She is very active on social media. From telling the condition of his heart, he keeps sharing photos of his family. Kareena is enjoying motherhood these days. Along with her two children, she also takes great care of her husband Saif Ali Khan. Famous actress by the name of Bebo has shared the photo of Saif Ali and his beloved son Taimur on his social media account. The photo started to become viral on social media as soon as it was shared.
Kareena Kapoor Khan has shared two photos on her Instagram account. In one photo, Saif Ali Khan is working in the field with a shovel in his hand and his son Taimur Ali Khan is also busy digging with a hoof in his hand. While in the second photo, Timur Ali Khan is seen sitting on a tree. Taimur looks very cute in both these photos. With these photos, Kareena wrote the caption 'Plant more trees, save trees on World Earth Day'. Fans are constantly expressing their love by commenting on this post. One wrote 'Good little Nawab', while one wrote 'It was nice to see that big people care about the world. This is a good example, thank you '.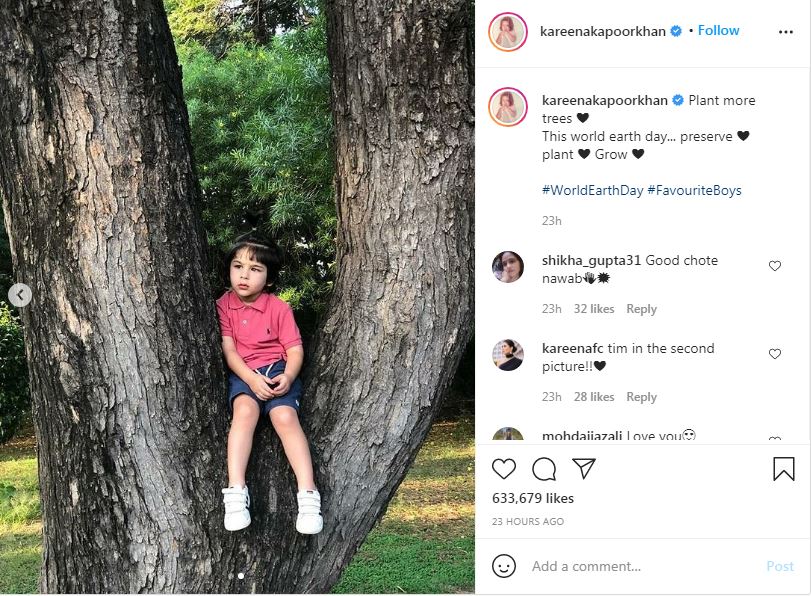 Actually, on the occasion of 'World Earth Day' on April 22, Kareena Kapoor spoke about environmental protection. For this, what could have been better than these photos of Saif and Timur. Recently, Kareena Kapoor shared a photo of her youngest second son on social media. In this picture, the elder brothers Taimur Ali Khan and Saif Ali Khan are seen feeding their younger son. Both are very happy. But Kareena has not yet shown the face of her young son.