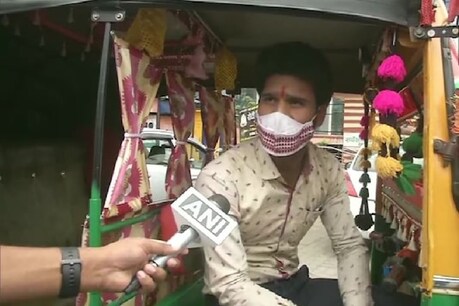 Since 15 April, he has been continuously cooperating in bringing patients to the hospital.
Ravi told that from April 15, he is constantly cooperating in bringing patients to the hospital. He said that I took this decision when no one was ready to take a Kovid infected woman to a hospital on April 15, while she was willing to pay any price to go to the hospital.
New Delhi. In this wave of corona, where everyone is trying to protect themselves, there is a person in Ranchi, Jharkhand who is engaged in sending patients to the hospital day and night without caring for themselves. Without even taking one rupee from anyone. In this hour of disaster, while some people are not missing out on earning money, Ravi's efforts of Ranchi are being praised everywhere. They have started using their auto completely in sending patients to the hospital on time, even they have got it written in their auto. Free service in emergency. Their effort is also very useful because due to the increasing number of patients, it becomes difficult to meet the ambulance at times.
In a conversation with news agency ANI, Ravi said that he 15 April From She continuously Patients To Hospital Deliver In help Tax are Huh. They said That these Decision I have Then took when 15 April To One Kovid Infected Women To someone Too Hospital Take Know Of for ready No happen, while they Hospital Know Of Anyone was willing to pay the price. I did not know if she was suffering from Kovid or not, but I agreed to take her to Rajendra Institute of Medical Sciences (RIMS) and did not even take the money given by her. Ravi said, I realized that there are many people who are not getting the means to reach the Astpal, and then I thought that I will help them as much as possible. They with Only these Too Told That I have Social Media On ours Number share did With which The people with me Contact Tax Can And them Hospital Know–To come In Trouble Ho so I am Their help Tax I can.
ALSO READ – Viral video of Tick Talk opened secret! Cabin crew also do this work in flight
many People started getting calls
Ravi says that I started getting calls. Many people used to think that I am connected to a particular hospital, so they would also ask me about the status of oxygen and beds there. I also got calls from many people who told that they are corona positive due to which no one is taking them to the hospital.
Not just Corona will also help
Ravi says that it is not just a matter of corona, people who have to go to a hospital in an emergency apart from this, I will help. Ravi has helped 16 lenges so far and he says that he will not refuse anyone on reading the need.