Kangana Ranaut clashed with a retired IAS officer. (Photo courtesy: kanganaranaut / Instagram / Surya Pratap Singh IAS Rtd / Tweet)
Kangana Ranaut has clashed with a retired IAS in support of the country's Prime Minister Narendra Modi. Right now Kangana is trending on social media.
Mumbai.
The Second Wave of Coronavirus of Corona virus has shaken the country badly. Every day, the rising figures of the infected are about to spread panic. The people of the country are struggling with the crisis of the epidemic badly. People are becoming victims of corona due to lack of treatment. After the shortage of oxygen and medicines, PM Modi (PM Modi) has also come on target of the people. As soon as PM Modi came on target, his supporters came to the rescue on social media. Bollywood actress Kangana Ranaut told the PM of Father of Nation.
When the hashtag #Bharat_ka_vir_put_modi started trending on Twitter, using this hashtag, Kangana wrote, 'When you have the most capable leader in the world, then you should not try to become the Prime Minister yourself. Support them, this is our religion and deeds.
A retired IAS officer Surya Pratap Singh objected to this tweet by Kangana Ranaut. While retiring on Kangana's tweet, a retired IS officer wrote, Kangana ji, are you a supporter of the Prime Minister or a staunch opponent of him? Because at this point of time, only an enemy can get such a trend done to spoil his image. When there are corpses all around, then your trend is like an act of bursting firecrackers in someone's 'mayot'. Eat salt containing iodine son '.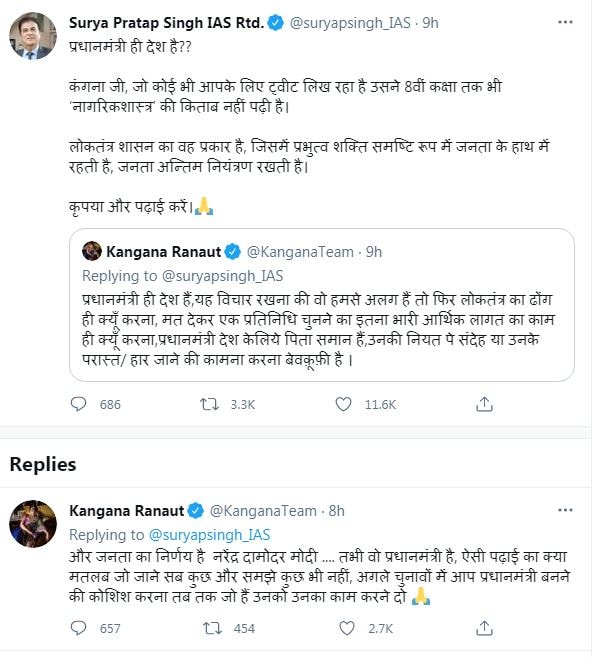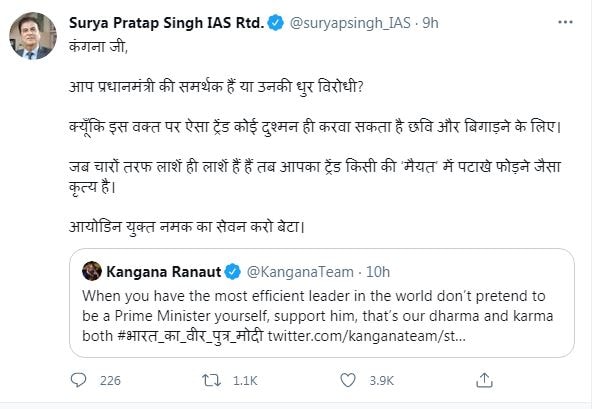 Along with Kangana Ranaut, many people have objected to the comment about the PM. But it is also true that the situation in the country is becoming uncontrollable. These days, patients infected with Corona virus are dying due to lack of oxygen. People everywhere are forced to live in panic. Oxygen is running out in the hospital. Those whose loved ones' lives are tied to oxygen cylinders, they are circling the market regardless of the rupee. The situation has become such that more patients are lying on stretchers than inside them in ICU. While the patients are suffering in the hope of breath, the relatives of the patients are stumbling rate by rate for the treatment. In such a situation, people are seen cursing the health system of the country.