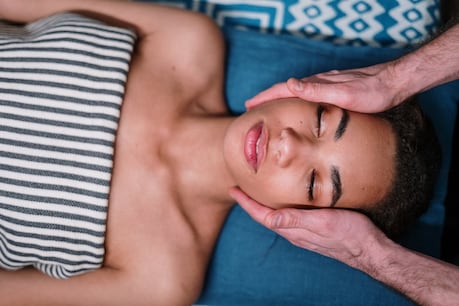 These natural things kept in the fridge have been used in cosmetics since ancient times. Image Credit: Pexels / cottonbro
For Glowing Skin, we neither need to go to the parlor nor do expensive cosmetics. There are many such things in our refrigerator, with the help of which we can do skin care.
Glowing Skin Tips: What we do not do to enhance the beauty of the face. Beauty make expensive facials in parlor, buy all kinds of expensive cosmetic products in the market and take care of diet as far as possible. But do you know that instead of all these, if you want, you can make your skin better and beautiful with the help of some special things kept in the refrigerator. Yes, according to Ayurveda, we can overcome every problem of our skin by using some home remedies. Not only this, we can also use natural things to make it glowing and beautiful. The special thing is that we only need to go to our fridge to get these. These natural things have been used for cosmetics since ancient times. So let's know what those things are.
1. Use lemon
Lemon contains plenty of antioxidants and ascorbic ache, which gives a natural glow to your face. Lemon contains natural astringents which help in enhancing the face. Blackheads are removed by using it, the dullness ends, the dryness goes away and the aging process can also be reduced. To make the skin glowing, you can apply lemon juice on your face for a while with cotton and wash it with water when it dries. It will act like a bleaching agent in your face and a natural glow will appear on the face.
Read also: Troubled by dark circles, then know 8 reasons for this
2. Use Tomato
The antioxidant-rich tomato nourishes the skin and brings natural glow to the face. Tomatoes are considered natural exfoliators in which flavonoids present can help remove dead cells and black heads. This improves the texture of the skin and keeps it soft. For this, cut the tomatoes in the middle and take both the pieces in your hand and rotate them round the face. Leave it for 10 minutes and clean it with water.
3. Use of cream
Take a teaspoon of milk cream and mix a pinch of turmeric powder and 1/4 teaspoon rose water and massage it on the face with light hands. After twenty minutes wash the face with lukewarm water. You can do this every day. Your face will look more glowing.
4. Use the honey
Raw honey contains some ingredients that keep acne away from the skin. Apart from this, it is also helpful in healing skin cells. Honey reduces inflammation and eliminates dryness. Not only this, honey helps in the formation of new skin cells, which increases the natural glow on the face.
Read also: Follow these 9 tips, perfume fragrance will remain for a long time
5. Use aloe vera
The use of aloe vera is very beneficial for the skin. To remove the black spots on the face, you should apply Aloe vera gel on the face for a while and then wash it with lukewarm water. Vitamins A, C and E are found in aloe vera. All these promote healthy cell growth and make hair shiny. Vitamin B12 and folic acid present in it are helpful in preventing hair fall. It is effective in increasing blood circulation, due to which the skin looks healthy and glowing. (Disclaimer: The information and information given in this article is based on general information. Hindi news18 does not confirm these. Contact the concerned expert before implementing them.)