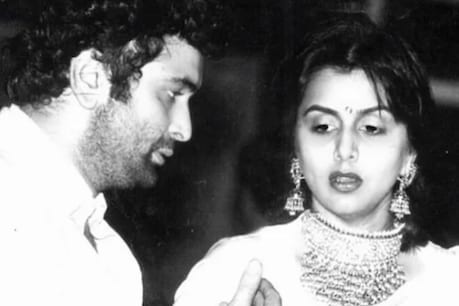 Neetu Kapoor has shared this unseen picture with Rishi Kapoor. Photo courtesy- @ neetu54 / Instagram
Actress Neetu Kapoor, wife of the late actor on Rishi Kapoor's 1st death anniversary, has shared her feeling by sharing an emotional post on social media.
Mumbai.
Time goes by fast, it has been a full year since the death of Bollywood's 'Chintu ji' ie Rishi Kapoor. Rishi Kapoor's fans and his family are still lost in his memories. On Rishi Kapoor's first death anniversary, his wife actress Neetu Kapoor shared an emotional post on social media and shared her feeling. Rishi Kapoor's smiling face and his impeccable style are still alive in people's minds. Today, on his first death anniversary, his wife actress Neetu Kapoor shared an emotional post with an unseen picture, which is becoming very viral.
He shared a black and white picture, in which both are seen talking. While sharing the picture, he wrote – 'The last year has been very sad and sad for the whole world, but it was a little much for us, because last year we lost them. There is no day when we have not talked about him, have not remembered him because he was part of our existence. Sometimes his wise advice, sometimes his words. We celebrated him throughout the year with a smile on his lips, because he will always be in our hearts. We have accepted this, life will never be the same without him … but life will continue to grow '. Apart from Neetu Kapoor, Rishi Kapoor's daughter Riddhima Kapoor has also written an emotional post for her dad on her Instagram, whose Together they shared a collage of two photos, in which Riddhima is seen hugging Papa. Let me tell you that after fighting a battle against cancer for almost 2 years, he finally breathed his last in a hospital in Mumbai on 30 April in the year 2020. Even though Rishi is not among us today, but his contribution and stories in cinema, his words as a personality and his life will always be alive in our minds.