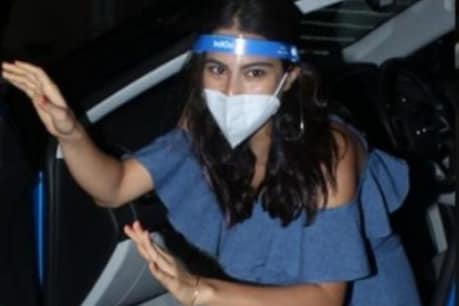 Sara Ali Khan was recently shot on the airpost. Photo courtesy- Viral Bhayani
A video of Sara Ali Khan always laughing and blaring is going viral, in which she is seen furious at a man.
Mumbai.
Actress Sara Ali Khan, who is making fans crazy with her chubby style, is very active on social media. These days she is spending a lot of time with the family. Recently, Sara, who always laughs and blossoms, got angry in front of people. Sara got angry when she was coming out of the airport and during this time a person came to her and took off her mask and took a selfie. Sara was unable to see this and heard two or four things that came in anger (Sara Ali Khan Became Angry). Actually, Sara Ali Khan was recently coming out of the airport. During this, he had a face shield and a mask. As soon as she reached out of the airport, a person reached her and took off the mask and took a selfie. The person's fire was fueled by this man's act and he said to him, 'What are you doing?'. After this, with folded hands, she started convincing everyone standing that it should not be done at all. Saying this, Sara sat down in her car, thanking Papps.
This video of Sara is now becoming very viral. After watching the video, many of Sara's fans are justifying their displeasure. People have to say that in the Corona era, people should understand how a small mistake can become a big problem for someone else. Let me tell you that all the time has been traveling for a long time. She went to the Kashmir vacation some time ago, where she was seen having fun with her mother Amrita Singh and brother Ibrahim Ali Khan. At the same time, she also left for the Maldives. However, now she has returned to Mumbai.