Irrfan Khan said goodbye to this world on April 29 last year (Photo courtesy: Instagram / babil.ik / kanganaranaut)
Kangana Ranaut and Irrfan Khan never worked opposite each other. Once during the film launch event, when Kangana expressed her desire to work with Irrfan, the actor refused her.
Mumbai
A year ago, Irrfan Khan said goodbye to this world. The actor's fans have not yet recovered from the grief of his departure. They often remember the actor. Fans received the sad news of his departure on 29 April. On the occasion of the death anniversary of Irfan, many stories related to him are coming out. Irrfan Khan worked with many Bollywood actresses in his career, but he never appeared opposite Kangana Ranaut. Now Kangana Ranaut has also raised the curtain due to her not being a pair on the screen. It is not that Irrfan Khan has not worked with Kangana Ranaut, just that both of them did not appear opposite each other. According to media reports, during a film launch event, Kangana told Irrfan that the two of them should work together. To this, Irfan replied, "It is fine, but two swords cannot remain in a sheath." Irrfan Khan's wife Sutapa and son Babil often post in his memory. On the occasion of the actor's death anniversary, Sutapa and Babil posted an emotional post about him. Sutapa has written in the post that last year he and his friends were singing songs for Irrfan and the next day Irfan was no more.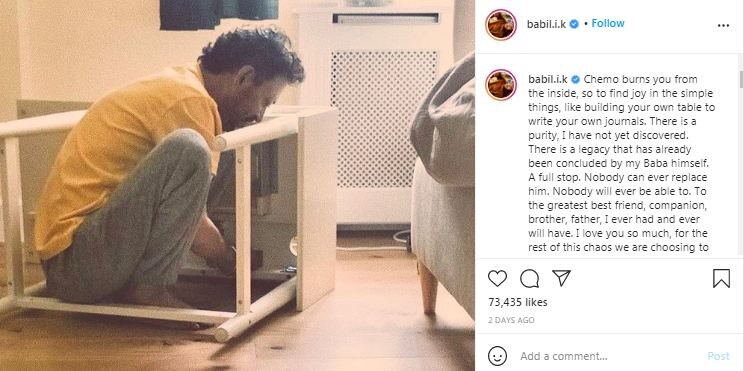 (Photo courtesy: Instagram / babil.ik)
On this occasion, Babil shared a photo of his father Irrfan on Instagram. Together, a long note was written. He writes, 'Chemo had burnt you in, so you started finding pleasure in small things, like making your own table or writing your own journal. There was purity in it, which I have not been able to discover till now. There was a legacy, which came to an end with my Baba's departure. A full stop. No one can ever replace them, nor will anyone be able to do it. He further says, 'From best friends, companions, brothers, fathers, who were with me and will stay. I would have made a space monument, which would take us to the far side of the blackhole, about which you were always surrounded by questions. But I will go to that place with you Baba and we will go together, hold each other's hand till the last secret is discovered. '