Kangana Ranaut got angry on users (Photo courtesy: kanganaranaut / aliaabhatt / priyankachopra / Instagram)
Kangana Ranaut is famous for speaking on every issue on social media. Kangana reprimanded the users for asking the actress not to help in the Corona Pandemic.
Mumbai: Bollywood actress
Kangana Ranaut
Has now messed up social media users. Kangana Yun keeps constant headlines by posting on every issue. Kangana got angry when people asked the actress about the help of the badly disturbed people in the Second Wave of Corona of Corona epidemic. Kangna also dubbed the users as dummies. In fact, on social media, Twitter users compared Kangana Ranaut with Bollywood actresses Alia Bhatt and Priyanka Chopra. Kangana was infuriated by this tweet of users. One user tweeted, writing to Kangana that 'I have not yet seen a single tweet in your entire tweet in which you have spoken about helping or helping people like Alia Bhatt and Priyanka Chopra are doing. You are only engaged in the work of improving the image of the BJP government. What does it take to just assume that the government is failing in this crisis? Angry Kangana replying that social media is not the only way to help people. I am helping people with beds, medicines, vaccines, oxygen, vaccines. Many people in my profession circle asked for my help, I am helping. I am not doing this for the gallery …. Got it dummy? '.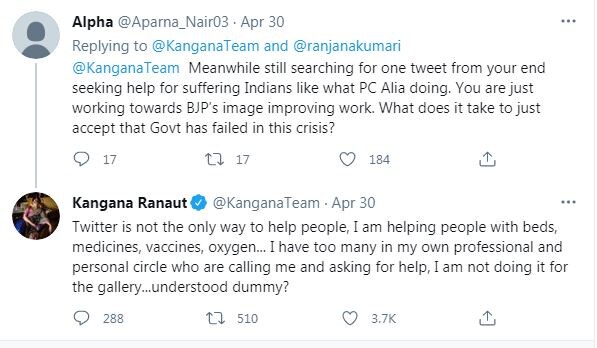 After this tweet of Kangana, another user wrote that it is difficult for those people to understand that a celebrity like you will help others without publicity. In response to this tweet, Kangana writes that it is really necessary to reach out to the needy people, because at the moment some people are engaged in black marketing for oxygen and beds, I always ask friends and family to send them all I am asking to call Akshat. Akshat has been busy helping people for the last few weeks.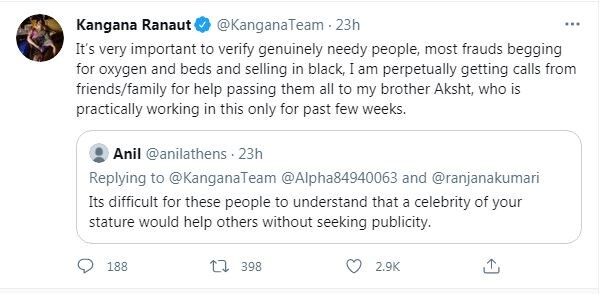 Even after this, people are constantly trolling them and asking how can anyone lie for oxygen. It is easy to know who is needed and who is not.