Mumbai
Priyanka Chopra together with Nick Jonas is running a Covid-19 relief campaign. This relief campaign has been run to help people in the country made of Kovid-19. Recently, Katrina Kaif praised Priyanka and Nick for the move. Katrina praised the couple in her Instagram story, calling it a 'big initiative'. The actress also got involved in this noble cause, as she shared a photo of Priyanka's fundraiser with the link and appealed to people to donate for her. In India, this fund has been carried forward by Razer Campaign, Priyanka and Nick together with 'Give India'. 'Give India' is the largest organization to provide relief from Kovid in India. With its help, efforts are being made to strengthen the infrastructure related to health services. This includes services related to Kovid Care Center, Isolation Center, Oxygen Generation Plant, Medical Equipment, Vaccination. By Thursday afternoon, the fund razor had raised two and a half million dollars from over 5000 donations. Their goal is to raise up to 1 million dollars. Katrina is supporting such campaigns and is giving information about oxygen cylinders, empty beds and hospitals through social media. Actress is using her social media account to alert people, amidst the second wave of corono virus. In social media, there are close to 49.2 million fans of the actress.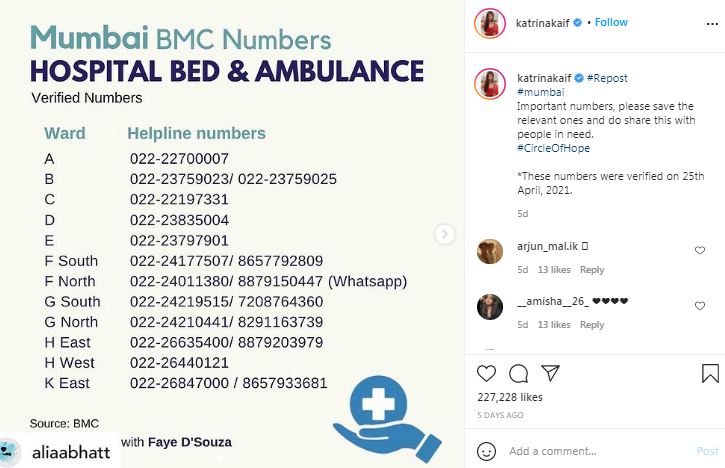 (Photo courtesy Instagram / katrinakaif)
A few days ago, the actress shared a list of vaccination centers in Mumbai, keeping in mind the government's vaccination camp. The actress also shared a verified list of hospitals and ambulance helpline numbers on Instagram to help the needy.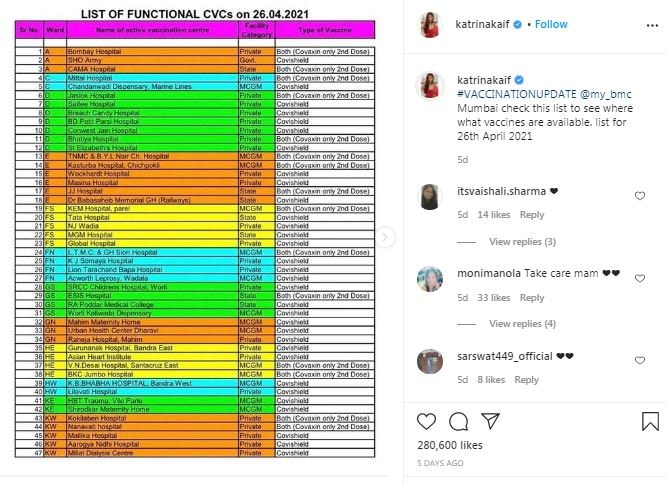 (Photo courtesy Instagram / katrinakaif)
Amidst the second wave of Kovid-19, the actress is doing her part. Sharing the post of BMC, Katrina asked everyone to follow the protocol of applying 'double mask' while exiting the house. A diagram is seen in the post, which states that applying a double mask between the Kovid-19 helps to keep the suspicion clear.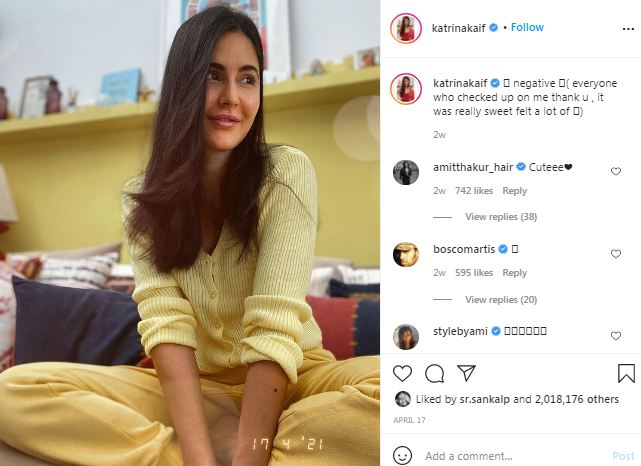 (Photo courtesy Instagram / katrinakaif)
A few weeks ago, the actress recovered from the corono virus. He shared his adorable photo on Instagram and told his fans that his report is 'negative'.