Rakesh Roshan was a special friend of Rishi Kapoor (Photo courtesy Instagram / rakesh_roshan9)
According to the news, Rakesh Roshan may soon bring a new film with Ranbir Kapoor and Hrithik Roshan.
New Delhi
It has been a year for Bollywood actor Rishi Kapoor. On the death anniversary of Rishi Ji, all his friends and Bollywood stars remembered their way. Rakesh Roshan was a special friend of Rishi Kapoor. On April 30, Rishi Kapoor's death anniversary, Rakesh Roshan accompanied wife Pinky Roshan to his house. Where Rakesh Roshan paid tribute to the late actor. Today, their two sons Hrithik Roshan and Ranbir Kapoor are big celebrities of Bollywood. Viewers love watching movies of these stars. However, Ranbir Kapoor and Hrithik Roshan were never seen together in any film. Late actor Rishi Kapoor wanted to see the two together in a film. Now it seems that his dream is going to be fulfilled soon. It is heard that Rakesh Roshan is going to make a film about these two big stars. According to media reports, Ranbir-Hrithik may soon be seen together in the new film. Actually, in an interview, Rakesh Roshan told that he is planning to cast Hrithik and Ranbir together.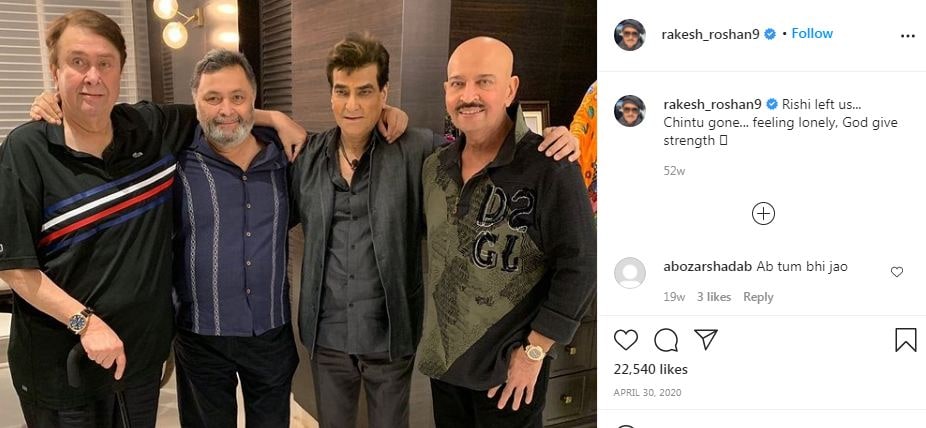 (Photo courtesy: Instagram / rakesh_roshan9)
In an interview to the Times of India, the actor said, 'Me and my wife went to Rishi Ji's house last day, there, we met Neetu, Riddhima and Ranbir. We were there for about 2 to 3 hours. There were many memories about the sage. I told many stories to Ranbir. When Rishi and I were young, we used to have a lot of fun together. I talked about the vacation where Rishi and I used to go together and had a lot of fun. In childhood, Ranbir and Hrithik used to join us on those vacations. Where I now hope that both can be seen in a film very soon. Rakesh Roshan further said that I do not have such a great story right now, about which I can say that I will cast both of them together. I have also put my film 'Krrish 4' on hold. This Kovid has poured water on all our planning. When the Kovid-19 is finished, we will start it. If I have a story, then I will definitely make a film.