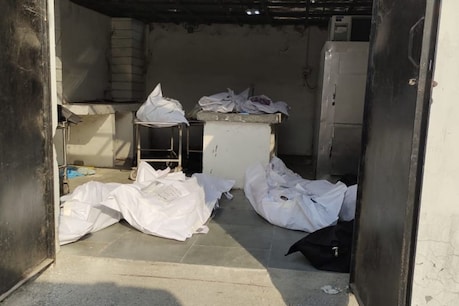 In Uttarakhand, the corona infection has become almost uncontrollable.
Fear of Corona: Corona virus is uncontrollable in Haldwani, Uttarakhand. The situation here is getting worse. In the district hospital, 7 corpses kept rotting for twenty days. The family did not agree to take these corpses.
Last Updated:May 1, 2021, 2:11 PM IS
Dehradun. Strange news is coming from Haldwani in Uttarakhand. There were 7 such corona-infected corpses lying in the Susheela Tiwari State Hospital, which had not come to take them for about 20 days. Because of this, all the bodies were rotting. The SDRF team has cremated 7 bodies under the Corona Protocol. SDRF DIG Riddim Agarwal said that the relatives refused to take these dead bodies. His condition had become very bad. He told that when no one came to pick up the dead body for a long time, then Inspector of SDRF Gajendra Parwal cremated all the dead bodies with the team. The family does not want to give the wood at the last moment Exactly similar situations also appeared in Uttarkashi. Here also, the SDRF jawans performed the last rites of three such dead bodies, which the family refused to take. The family did not even bother to give a wood at the last minute. Aggarwal says that in every district, we have made one sub-inspector of SDRF as the nodal officer. DM, CMO, SP of the district has been sent the name, mobile number of the nodal officer. So that, in any hospital such cases arise, the bodies can be disposed of by giving information to the Nodal Officer.The young men are delivering the kit from door to door Aggarwal said that the responsibility of home isolation has also been assigned to the SDRF. There are more than 55 thousand active cases of Kovid in Uttarakhand. Most of these are in home isolation. In such a situation, it is challenging to deliver the kit to every patient at home. SDRF jawans are distributing corona kits to the people living in home Isolation from door to door. This kit contains medicines and necessary advisory. SDRF has done this kind of planning
DIG Riddim Agarwal says that Dehradun is divided into eight zones. In the city area, SDRF is distributing Anganwadi and Asha Workers Home Isolation Kit in the village. SDRF has formed eight teams in the city area, which operate in two shippets. Efforts are made to get the kit to the patient within 24 hours. In Haridwar and Udham Singh Nagar districts, SDRF has tied up with Jometo. Here the SDRF jawans are distributing the Corona kit together with Jometto.