Twinkle Khanna is helping Kovid-19 victims through her SGO (Photo courtesy: Instagram / Twinkle Khanna)
Bollywood (Covid-19) is currently working together to help the victims. Now on social media, Twinkle Khanna has informed that he has again donated 250 Oxygen Concentrators.
New Delhi
The second wave of the Kovid-19 (Covid-19) epidemic has shaken the country. Due to this, millions of people have lost their lives. From common to special people, Kovid-19 is trying to do something for the victims. Bollywood is also no longer behind in this. Many big stars have come forward to help the victims. According to them, they are engaged in the task of getting oxygen cylinders, medicines and beds in the hospital. Many stars have decided to help the needy through social media. Recently, Akshay Kumar decided to donate 100 Oxygen Concentrators. Now Twinkle Khanna, the actor's wife, has put forward a helping hand. After Akshay Kumar, Twinkle Khanna has also donated. Shortly before, the actress has informed from her Instagram account that she has re-donated 250 units of oxygen concentrators, along with the actress has also donated 5,000 nose cannons. The actress also revealed that she has done this noble work from the funds she got from her NGO. The actress has thanked everyone for this. The actress wrote, 'I am happy that people supported me in this noble cause.'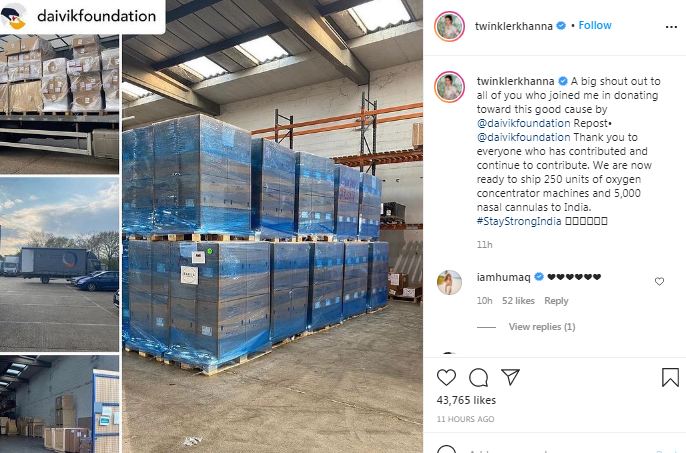 (Photo courtesy: Instagram / Twinkle Khanna)
The actress has done this noble work in collaboration with Devika Foundation. Earlier, actress Sushmita Sen had helped people of a hospital in Delhi to get oxygen cylinders, after which people praised the actress a lot. Explain that the oxygen concentrator separates oxygen from the air. The concentrator separates the oxygen from the rest of the gases and stores it in the cylinder. The biggest advantage of this is that the need to refill the oxygen cylinder over and over again ends. It provides up to 95 percent pure oxygen to the patient.