Nawazuddin Siddiqui has finished shooting for 'Sangin' and 'Jogira Sara Ra Ra' (Photo courtesy- @ nawazuddin._siddiqui / Instagram)
Nawazuddin Siddiqui is currently at his home in Budhana with his family. Amidst the Corona crisis (Covid-19), the actor currently has no plans to return to Mumbai.
New Delhi
After completing the shooting of films, Nawazuddin Siddiqui has returned from Mumbai to his home. Last year, the actor also spent most of his time in the family in lockdown. Nawazuddin did farming work at home. After the situation returned to normal, the actor returned to Mumbai to complete his remaining work. He completed shooting for 2 consecutive films during Kovid. The actors returned to their homes after finishing shooting for 'Sangeen' and 'Jogira Sara Ra Ra'. Now Nawazuddin says that he does not know when he will go back to Mumbai. During a conversation with ETimes, the actor said, 'Every day I pray that everyone should come back as before. The country should get out of this trouble. Let everyone become normal and start doing all the work.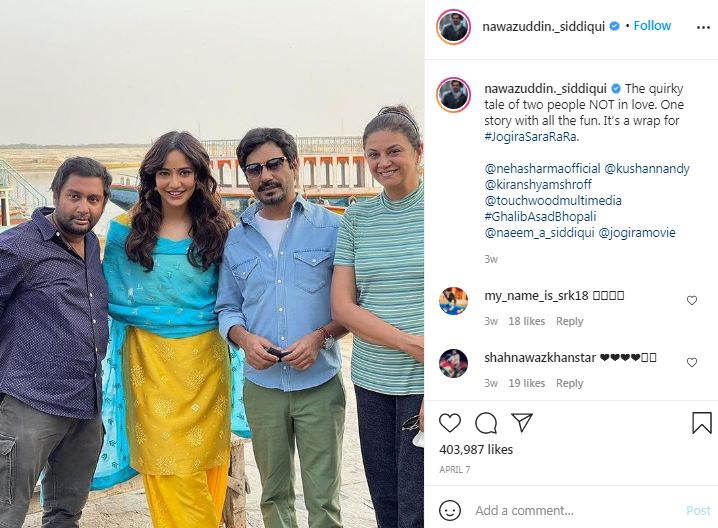 (Photo courtesy: Instagram / nawazuddin._siddiqui)
When asked about Nawazuddin's return to Mumbai, he said, 'Situation is very bad right now. I do not know when I will come back to Mumbai. Nawazuddin said about shooting for 'Sangeen', 'We shot the film in London. Everything was empty there. There was a lockdown in London due to the new Kovid strain. There was a very scary situation, but we completed the shooting with great care. 'A few days ago, Nawazuddin's wife Alia had told that the actor has started taking a lot of attention on his health. They are very happy because of this. Nawazuddin has taken time off for himself by taking a break from work. Alia had told that a resort is connected at the detox center in Bangalore, where Nawaz stayed between protocols. Let me tell you that Nawazuddin had started a class of celebs going on vacation a few days ago. He called all those stars who were roaming during the Kovid and was sharing photos of the vacation on social media. Nawazuddin had said, 'What will those people talk about? About acting? These people have made Maldives a spectacle. I don't know what arrangements are there with his tourism industry. But as a human being, please keep the photos of your vacation with you. Everyone is facing this difficult time here. Covid cases are increasing rapidly. Do not break their hearts by showing these photos, who are facing this difficult time.