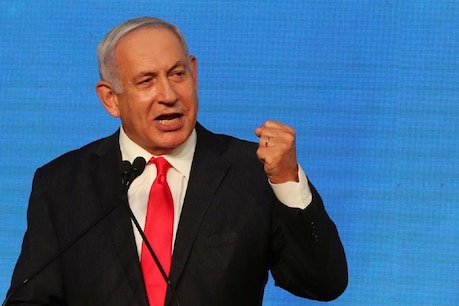 Benjamin Netanyahu. (Reuters file photo)
Israel PM Benjamin Netanyahu: The four-week deadline given to Benjamin Netanyahu by the nominal president of Israel (Israel) has expired.
AP

Last Updated:May 5, 2021, 11:25 AM IS
Jerusalem. Israeli Prime Minister Benjamin Netanyahu has missed the midnight deadline to put forth a new governing coalition, raising the possibility that his Likud party may be forced to sit in the opposition for the first time in 12 years. The four-week deadline given to Netanyahu by Israel's nominal president expired. The matter is now back in the court of President Raven Rivlin, who announced shortly after midnight that he would contact the 13 parties who had won parliamentary seats on Wednesday to discuss 'continuing the process of government formation'. Rivlin can give any of Netanyahu's opponents a chance to form an alternative coalition government in the coming days. He can also ask Parliament to choose one of its members as Prime Minister. If neither of these options comes in handy, then there may be compulsion to hold another election in the country during this autumn season. If this happens, it will be only for the fifth time in two years. This crisis does not mean that Netanyahu will be immediately removed from the post of Prime Minister, but now a serious threat has arisen for his long rule.