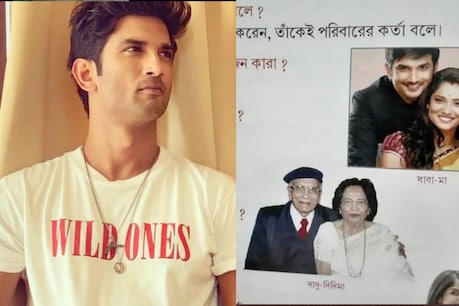 School children will learn family values ​​from the life of Sushant Singh Rajput. (Photo courtesy: sushantsinghrajput / Instagram-Twitter / smita parikh)
Sushant Singh Rajput has been included in the curriculum of school children. Children will learn Family Values ​​from Sushant's life in a Bengali language book.
Mumbai.
Late actor
Sushant Singh Rajput
What would be a bigger tribute to this? The actor's photo has once again been included in the textbook of the Bengali school. In the book, a photo taken from Sushant's famous TV serial 'Pavitra Rishta' has been put. In this photo, Ankita Lokhande, who played his wife in the serial, and Child Artist who plays his son are also shown. In order to tell the school children the importance and relationship of the family, the photo of the actor has been taken. Smita Parikh, a friend of Sushant Singh Rajput, tweeted a photo of the text book page and wrote, 'Another primary Bangla book has published the photo of our beloved Sushant in a text book to explain family and father figure. I am so proud of them. It is evident from this that our education board also considers them the best '. People are fiercely liking, commenting and retweeting Smita's post. Seeing this, Sushant's fans, friends and family are feeling proud.
This is not the first time that Sushant's photo has found a place in the school curriculum. Even before this, his photo has been used in the science text book of Bangla's primary class. Sushant's photo has been used to explain the difference between humans and animals to the children of class 3. An attempt was made to explain the difference to children by putting a photo of an actor in place of a human being. It was posted by Sushant's fan and tweeted that 'SSR's picture is an example of humanity'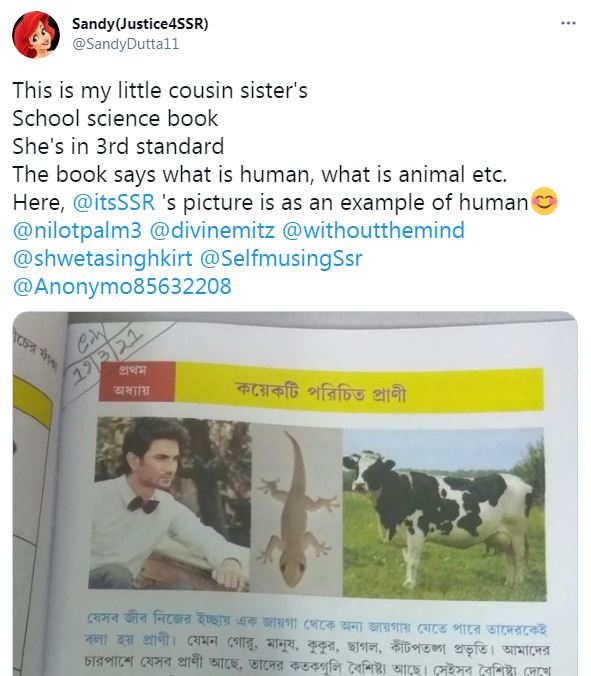 After the death of Sushant Singh Rajput, his fans have jumped with joy when such news comes. In a very short time, this actor had made a special place in the hearts of people.