Actor Rahul Vohra died due to corona (Photo courtesy: Instagram / Rahul Vohra)
Actor Rahul Vohra's health was continuously deteriorating since he was infected with Kovid-19. On Saturday, a few hours before his death, the actor wrote a post on Facebook and appealed to the people to help him.
New Delhi
Actor Rahul Vohra lost the battle of life against the corona virus. He had been battling Corona (Covid-19) for a long time. He was seen in the Netflix film 'Unfreedom'. The actor appealed to the people for help a few hours before his death. He had requested people for help through Facebook (Rahul Vohra Facebook). Theater director and play writer Arvind Gaur has confirmed Rahul's death. He gave information about Rahul's death on Facebook. Rahul could not hold back his life in this difficult period, but the actor wrote a last post on Facebook and appealed for help. According to media reports, since the corona was infected, the actor's health was constantly deteriorating. When there was no option, the actor tried to get help through Facebook, but his life could not be saved. The actor's post is heartbreaking. They kept expecting better treatment till the last time, but this could not happen.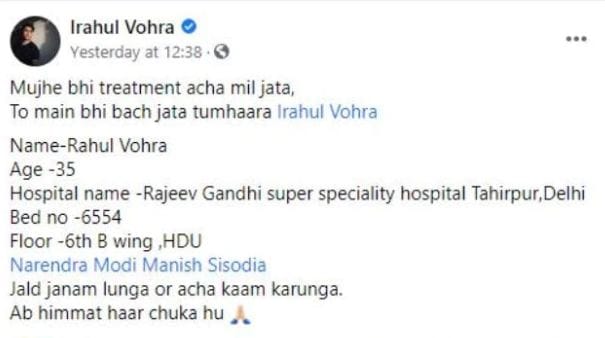 (Photo courtesy: Facebook / Rahul Vohra)
Hours before his death, Rahul wrote, 'If I had got a good treatment, I would have survived. Your Rahul Vohra. He has posted his details as a patient. He further writes in the post, 'I will be born soon and will do good work. Now I have lost courage.

(Photo courtesy: Facebook / Arvind Gaur)
Director Arvind Gaur has expressed grief over Rahul's death. Arvind writes, 'Rahul Vohra is no more, my promising artist is no longer in this world. It was yesterday when he told me that his life could have been saved if he had got better treatment. He was shifted from Rajiv Gandhi Hospital to Ayushman, Dwarka, but we could not save him. Please forgive us Rahul, we are your criminals. Last salute.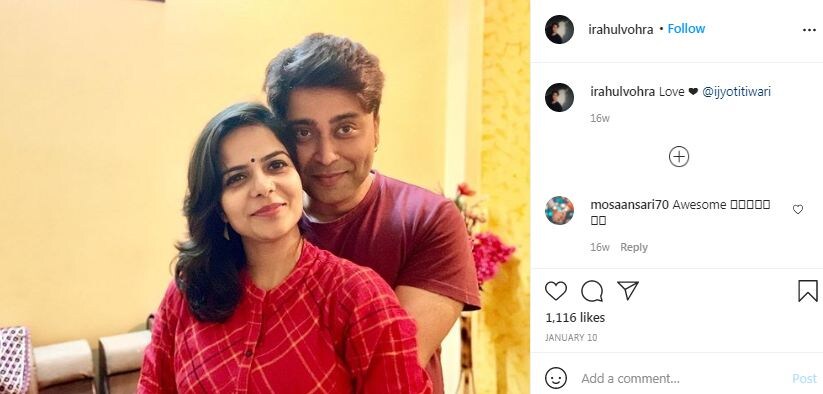 (Photo courtesy: Instagram / Rahul Vohra)
Rahul Vohra was very famous on the digital platform of Uttarakhand. People liked the actor's work very much. they were married. He married writer Jyoti Tiwari.