Temporary hospitals are being built in Rishikesh and Haldwani.
To help the Uttarakhand Government (DRDO) extend its hand, the State and Defense Institution have jointly moved towards a project of a total of 1400 bed hospitals.
There is a concerted effort to make arrangements in the country as well as in Uttarakhand in view of the increasing number of patients during the outbreak of the second wave of corona virus. Two Kovid Care Hospitals are being built in Rishikesh and Haldwani, for which the Defense Research and Development Organization of India, DRDO has taken the responsibility. This is part of the project in ASL, which was reported about a month ago. Two 800-bed hospitals are being built by DRDO in two major cities of Uttarakhand, Rishikesh and Haldwani to fight Kovid-19. According to the news agency ANI, the DRDO official has informed that the hospital in Haldwani will have 375 oxygen beds and 125 ventilator beds. At the same time, the hospital in Rishikesh will have 400 oxygen beds and 100 ventilator beds.
read this also : SOP continues for Char Dham Yatra, know what are the conditions and conditions with Corona Negative Report
Plan of 1400 bed hospitals
In all, the project of 1400-bed temporary hospitals in the Kumaon and Garhwal regions was announced by the Ministry of Health at the end of April. In the reports quoting Health Secretary Pankaj Pandey, it was said that 500-500 bed hospitals will be built in Haldwani and Rishikesh.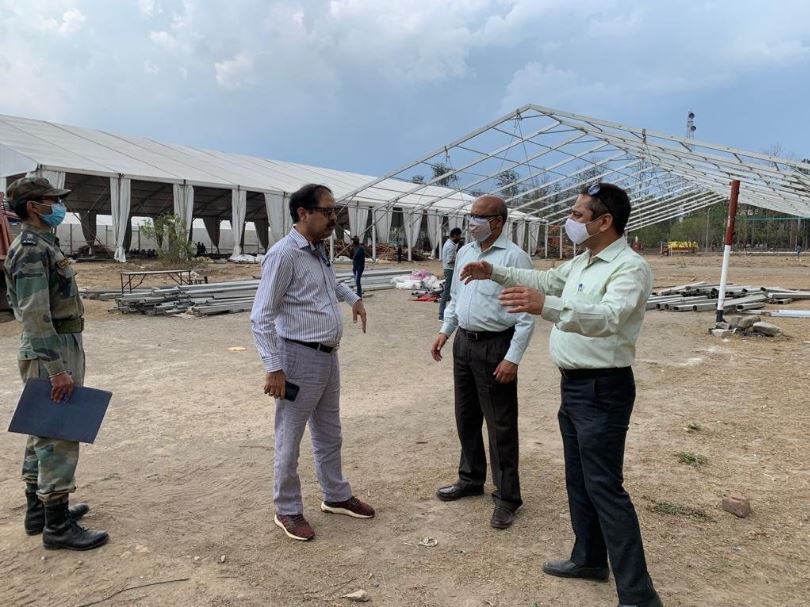 The ANI confirmed the construction of temporary Kovid hospitals in Rishikesh and Haldwani with these photographs.
Not only this, in the Himalayan hospital too, with the help of DRDO, 400 oxygen beds should also be arranged, Pandey said. It was told that in addition to these 100 beds will also be with ICU facilities. Now the news agency has confirmed the start of this project.
When will this hospital start and what is the cost? According to the information, both these hospitals being built by DRDO can start from June 15. In the reports quoting the Principal Secretary of the state, it was also told that an amount of about 40 crores has been allocated for this project. It is believed that with the introduction of Kovid-19 cases in the state, the patients will be able to get quick and proper treatment easily.