Hansal Mehta was in the news for directing the black comedy 'Chalang' (Photo courtesy: Instagram / Hansal Mehta)
Bollywood director Hansal Mehta has written a deep post in the name of Mother India on the occasion of Mother's Day. On this occasion, they are hoping to overcome the sufferings of Bharat Mata (India).
New Delhi
Today, Mother's Day is being celebrated by sharing special photos and videos all over the world, on the other hand, Director Hansal Mehta shared a post dedicated to Bharat Mata on social media. is. The National Award winning director has given a strong message on Mother's Day dedicated to Mother India on her Twitter account. The director tweets, 'I am dedicating this Mother's Day to India, India, Mother India. Your true children can ease your pain. Bless those who have put their lives at stake to alleviate the suffering of the people. It is a matter of regret for those people who have used you for their selfishness and wrong purpose.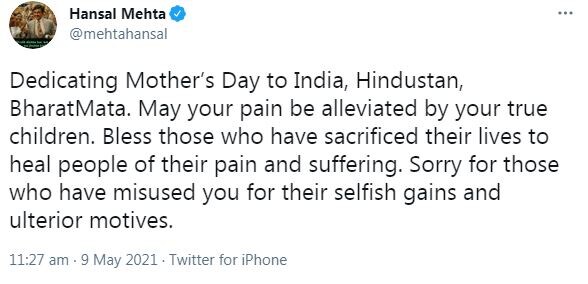 (Photo courtesy Twitter / Hansal Mehta)
Earlier, the Bollywood celeb also wrote a deep post, in which he says that in these unprecedented times, today's generation needs to take an oath to save the Earth on Mother's Day. Speaking of work, Hansal Mehta came into the limelight for directing the black comedy 'Chalang', in which Rajkumar Rao and Nusrat Bharucha played the lead roles. Some members of the director's family were recently infected with Kovid-19 . Hansal had also requested for help on social media for his son and after getting help, he also thanked the people. He told the fans about his health. Then Hansal wrote in his tweet, 'Looks like I too have been hit by the virus. Sore throat, fever and too many mild symptoms. Awaiting test report. I will definitely fight this virus.