Kangana Ranaut's Twitter account has been suspended recently. (Photo courtesy- @ kanganaranaut / Instagram)
A post by Kangana Ranaut has been deleted by Instagram. After the post is deleted, Kangana has also taken out the anger.
Mumbai.
Kangana Ranaut is deeply involved in controversies. She often gets into the headlines for her rhetoric. After the Bengal results, Twitter had suspended his account after reacting strongly to the Bengal violence. Now Kangana became active on Instagram. Recently, he shared the news of himself being positive with the fans, while challenging Corona. Kangana's post has been deleted by Instagram (Kangana Ranaut post deleted by Instagram). After the post is deleted, Kangana has provoked the anger there. Kangana Ranaut on Saturday (8 May), with the news of being corona positive, said that it was a minor flu and said that I know I will end it. When his post was disputed, Instagram deleted the post, taking these tough steps. The actress has now shared her Mann Ki Baat on her Insta story. Kangana wrote- 'Instagram has deleted a post of mine, in which I threatened to kill Kovid. Somebody's feelings got hurt. Meaning that sympathizers of terrorists and communists were heard on Twitter, but Kovid Fan Club. Wonderful. It has been two days on Insta, but it does not seem to be able to last more than a week.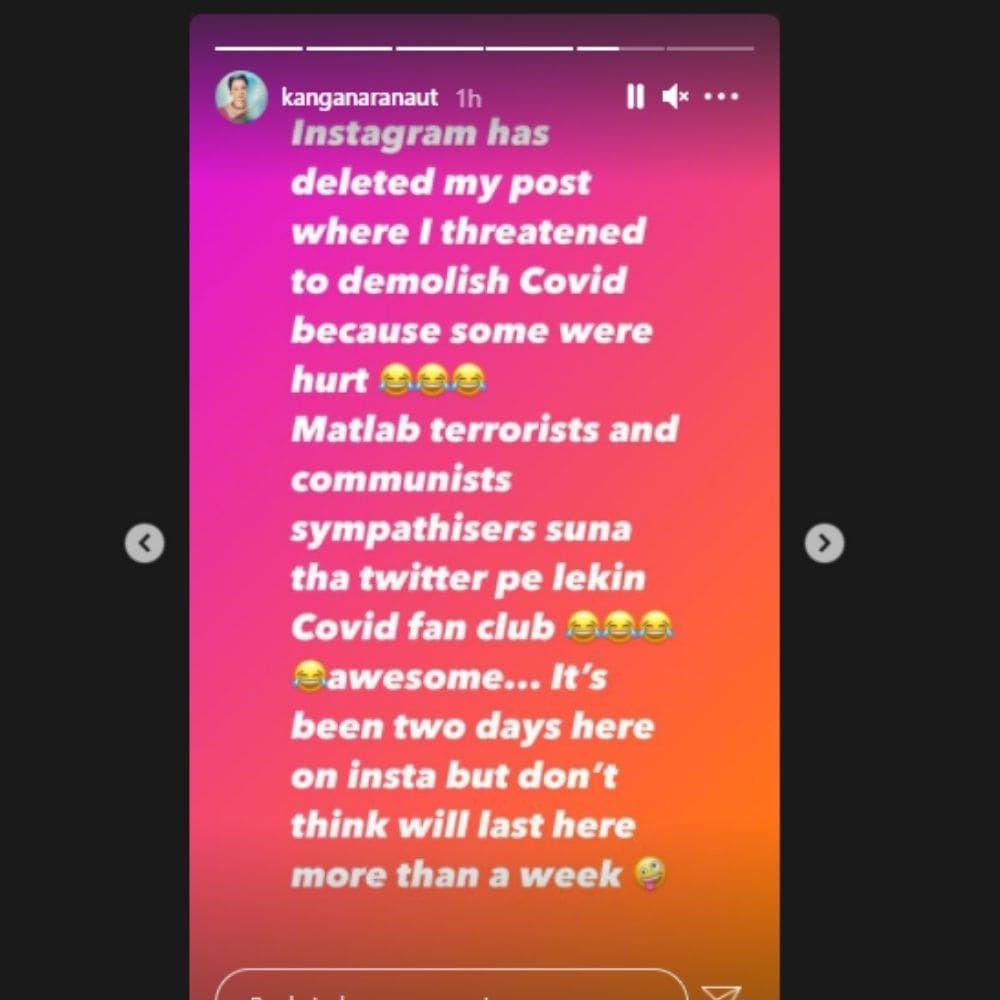 Kangana's post is now becoming very viral. Kangana Ranaut shared a post through Instagram and told that she has become Kovid positive. He wrote, 'I was feeling light-eyed and tired and weak for the last few days. Was hoping to go to Himachal, so yesterday I had a Kovid test and today the report came that I am positive.
I have quarantined myself. I did not know that this virus is in my body, but now I know that I will destroy it. People also please do not be afraid of this, the more you fear, the more it will scare you. Let's destroy this Kovid-19. It is nothing but a short time flu which has been suppressed a lot and now some people are considering it. Everywhere Shiva. '