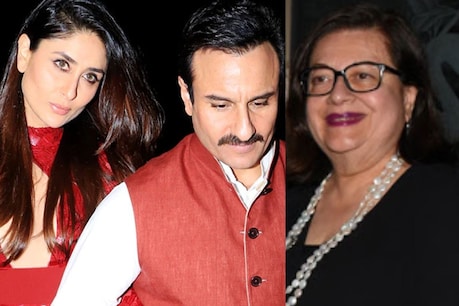 Kareena and Saif's marriage has completed 8 years. File photo.
Kareena Kapoor Khan and Saif Ali Khan have been married for eight years and have two children. Kareena once revealed that how Saif reacted when Saif mentioned to her mother-in-law Babita Kapoor about staying with Kareena at Live In.
Mumbai. The lovestories of Kareena Kapoor Khan and Saif Ali Khan are not hidden from anyone. Both worked together in the films 'LOC Kargil', 'Omkara' and 'Tashan'. On the set of 'Tashan', the two came close and then dated each other for a long time. Today, 8 years have passed for their marriage. Both have recently become parents of the second child. Before marriage, Saif wanted to live in a live in with Bebo. When Saif himself mentioned this to his mother-in-law Babita Kapoor, how did his reaction go, Bebo himself mentioned this. Kareena Kapoor Khan is very active on social media. She is often spotted with her mother. When Saif talked about living with Kareena to his mother Babita Kapoor, how was his reaction, Kareena revealed this in a special conversation with Humans of Bombay in 2019. Kareena told that mother should know everything before staying in live in with Saif. Thinking here, both of them talked to their mother Babita about their relationship. He told that Saif had told my mother that we were dating for some time. He said that he is not 25 years old and cannot leave me home every night. So I want to spend the rest of my life with Kareena. We want to be together Kareena told that my mother is very cool. It was very easy for him. When we decided to get married, it felt right. Kareena had said that she and Saif had met many times before, but something changed during the shooting of 'Tashan'. I was heartbroken. I was dead on her looks. He is 10 years older than me and has two children from his first marriage but for me he was just Saif. Saif taught me to love myself. Kareena had told about the struggle in her career that Saif always stayed with her while I was struggling in my career. I did many films, but then I did not work for a year. I felt as if my career was over. Then he asked me to find myself again, becoming a size zero. It was love, I was getting weak and Saif was standing with me.