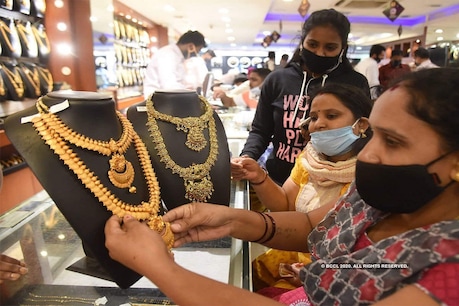 Sovereign Gold Bond has a coupon rate. It comes with a fixed market price when listed on the exchange.
Akshaya Tritiya 2021: Gold bonds can be bought or sold as shares on stock exchanges. For this, there is a need to pay attention to liquidity. Retail investors can buy and sell them through a demat account.
New Delhi. Many people of the country like to buy gold on Akshaya Tritiya (Akshaya Tritiya 2021). At the same time, a large number of investors also invest in Gold Bonds / Gold Funds through bonds or funds. The Reserve Bank of India (RBI) is not yet informed of plans to issue Sovereign Gold Bond for this financial year. Despite this, you can buy sovereign gold bonds from stock exchanges. They are listed and traded with shares in the cash segment. Retail Investors can buy and sell them through a demat account. The lower the bid-offer spread, the more benefit to the investor Sovereign Gold Bond has a coupon rate. It comes with a fixed market rate when listed on the exchange. So far RBI has launched Sovereign Gold Bond 49 times. The central bank has issued an average of 1.25 tonnes of gold in digital or paper form every time. Of these, 19 have a trading volume of 100 or more units per day on the exchange. However, there is a problem of low liquidity with many sovereign gold bonds. It will be difficult for you to buy them at the market price. You will have to pay some higher price for this. This difference is called bid-offer spread. The lower the spread, the better it is for you. read this also- Gold Price Today: Gold and silver prices continue to rise, still have a chance to buy, see new pricesYield to maturity is very important in the purchase of bonds. If you buy a bond from the secondary market, then Yield to Maturity (YTM) is very important. This shows you how much profit you will get if you keep the bond till maturity. However, yield to maturity is not important for a sovereign gold bond and you can compare its market price to the closing rate of 999 purity gold issued on the India Bullion and Jewelers Association (IBJA) website. All brokers provide the facility to purchase sovereign gold bonds through the exchange. read this also- Central government refuses to remove GST from Corona's medicine! Finance Minister Nirmala Sitharaman said – medicines will become expensive
If you invest in SGB, how can the returns be? Gold prices came down sharply in two years. In spite of the continuous rise, they are still running below the highest level of about Rs 9,000 per 10 grams. Quantum AMC Senior Fund Manager Chirag Mehta said that there is pressure on gold since the beginning of this year. The reason for this is the dollar and US bond yields, which have been strengthened due to the expectation of an early economic recovery in the US. However, in the last one month, there has been a rise in the prices of gold. As Corona grows, investors can reduce their exposure to risky assets such as equities and gold is expected to benefit. Due to this, there may be another round of rise in the prices of gold.