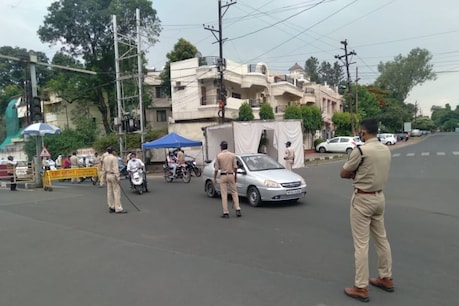 According to CAIT, 8 crore businessmen have suffered due to Corona restrictions. (Cipher photo)
Around 8 crore traders in India have suffered a major setback due to the lockdown and curfew imposed to control the second wave of Coronavirus Second Wave. According to CAT (CAIT), there has been a loss of business of 6.25 lakh crore rupees in April 2021.
New Delhi. More than 4 lakh new cases of corona virus are coming out every day. In such a situation, most state governments have imposed curbs like curfew or lockdown to reduce the speed of this second wave of Kovid. Due to this, about 8 crore traders have suffered a major setback due to business activities. According to the Federation of Traders Confederation of All India Traders (CAIT), during April 2021, traders have suffered a business loss of Rs 6.25 lakh crore. CAT claims that it has collected this data from more than 40 thousand organizations representing 8 crore merchants. Government has lost revenue of 75 thousand crores CAT said that the government has lost a total revenue of 75 thousand crore rupees due to the loss to businessmen. According to CAT chairman RC Bhartia and general secretary Praveen Khandelwal, the retail business has suffered about Rs 4.25 lakh crore in total loss. At the same time, the wholesale business has incurred a loss of about 2 lakh crore rupees. Kat said that the figures for the loss of business are not only very much, but they talk about the great devastation. However, the number of deaths from Kovid due to loss of business cannot also be ignored. Also read- Indian Railways increased special trains for Uttar Pradesh and Bihar, some were extended, tickets started booking from todayKat asks PM to create a task force of pediatricians In a communication sent to Prime Minister Narendra Modi on Sunday, the trade union appealed for a nationwide lockdown to control the epidemic. It has urged the formation of a task force of pediatricians to deal with the third wave. Actually, experts say that the third wave will be more dangerous for children. The Federation of Retailers Association of India (FRAI), representing around 4 crore micro, small and medium traders in the country, had reported last year that lockdown restrictions could reduce the monthly earnings of small traders by around 40 per cent.