Farhan will be seen playing the role of a boxer in his next film 'Storm' (Photo courtesy: Instagram / Farhan Akhtar)
In the Corona crisis (Covid-19), Farhan Akhtar (Farhan Akhtar) has come forward to help the victims. They are delivering food to the needy through an NGO in Uttar Pradesh. Actors are arranging 1000 plates daily.
New Delhi.
Amid the second wave of Corona epidemic in India (Covid-19), actor Farhan Akhtar (Farhan Akhtar) has come forward to look after the affected families of Uttar Pradesh. The actor of the film 'Rock On' is working closely with an NGO. The actor's donation is being used to raise food for the in-distressed patients and their caregivers. According to media reports, NGO secretary Divyanshu Upadhyay said that these donations are being used not only for the food of virus-infected patients, but also for those working on the Harishchandra and Manikarnika crematoriums in Varanasi. Used to be. The secretary of the NGO further said, 'We eight people from the Hope team, are distributing 1000 thalias across the city. Rice, lentils, roti, vegetables, salads and biscuits are given in each bag. If we distribute lunch in hospitals during the day, then cremation at night provides help at the ghats. Farhan sir has always stood by us in times of need and we are thankful to his contribution at this time.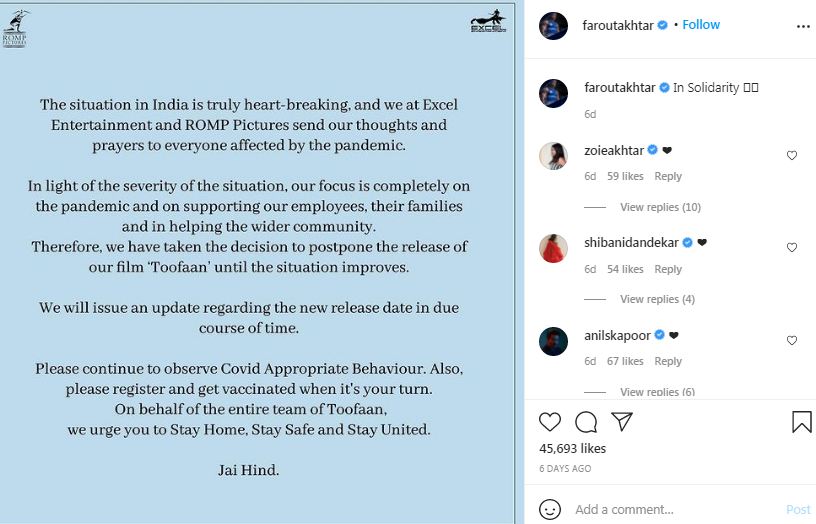 (Photo courtesy: Instagram / Farhan Akhtar)
Divyanshu Upadhyay further revealed that he had reached Farhan Akhtar through social media. The actor immediately reacted and agreed to help. A few days ago, Farhan had helped a national level boxer and NIS qualified coach, who was struggling to get the basic amenities. Farhan's role as a boxer in his next film 'Hurricane' (Toofan) Will be seen playing Due to the epidemic, the release of the film has been postponed. The film was scheduled to be released on Amazon Prime Video on May 21. In the film, Farhan has not only played the lead role, but he is also its producer.