Kriti Sanon and Varun Dhawan were last seen together in the film 'Dilwale' (Photo courtesy Instagram / Varun Dhawan / Kriti Sanon)
Actress Kriti Sanon is working with Varun Dhawan in the film 'Bhediya'. The actress has told how Varun Dhawan changed after marrying Natasha Dalal.
New Delhi
Actress Kriti Sanon will soon appear in the next horror comedy Bhediya alongside Varun Dhawan. Both have previously worked together in the 2015 film 'Dilwale' (Dilwale). According to media reports, Kriti once again talked about working with Varun. She also revealed how they have changed after marrying fashion designer Natasha Dalal. Kriti said that Varun has become more mature now. Kriti said during the conversation, 'It has been six years since we worked together. I think both of us have become better as actors and as human beings. They are married now, but they are still the same, but have become a bit more mature than before. 'Wolf' is a monster-comedy and very different from our previous films, so it's very funny. ' Let us know that Varun and Natasha were tied up in a marriage bond in Alibaug earlier this year. Due to the Corona epidemic, only a few people attended the wedding.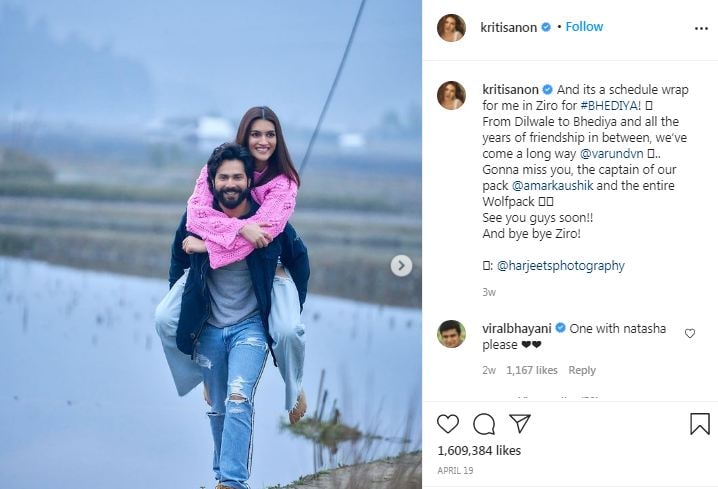 (Photo courtesy Instagram / Kriti Sanon)
Both were childhood companions. This couple had dated each other for years before marriage. Talking about her love story, Natasha said in an interview, 'Varun and I were in the same school. By the time we were in the mid 20s, we remained friends and then, I remember I started dating before I went away. Then I realized that we were more than good friends. Dinesh is building the wolf of Varun and Kriti. Amar Kaushik, the director of the 2018 blockbuster film Stree, is directing it. Abhishek Banerjee, and Deepak Dobriyal are also working in this film. The film is being written by National Award winner Niren Bhatt, who wrote the scripts for the films 'Bala', 'Made in China', 'Rong Side Raju'. The film will be released in theaters on 14 April 2022.