Sameera Reddy went into depression after the birth of son Hans (Photo courtesy: Instagram / Sameera Reddy)
Sameera Reddy has described depression and postpartum depression after the birth of son Hans. When the daughter's entry in the life of the actress, she learned to love herself.
New Delhi
Sameera Reddy has told the story of her suffering from postpartum depression after the birth of her son Hans. The actress initially thought that she would be like those 'page 3' mothers who pose with perfect bumps. His thoughts about Motherhood were influenced by Bollywood, but at the time of delivery, he weighed 105 kg. Sameera's husband Akshay Varde took great care of her during this time. In a conversation with Humans of Bombay, Sameera said that her husband Akshay Verde changed the baby's diaper and fed her. They were taking care of the child while she was fighting with her emotions. My mother-in-law said, 'Your child is healthy, you have a supportive husband, why are you upset?' I had no answer. The actress further says, 'After being discharged, I cried. I also regret for Hans, for not being there. This went on for a year, I was often shattered. I was completely cut off from the film industry. My weight is still 105 kg. I was suffering from Alopecia areata. Flakes of hair were coming out of my head.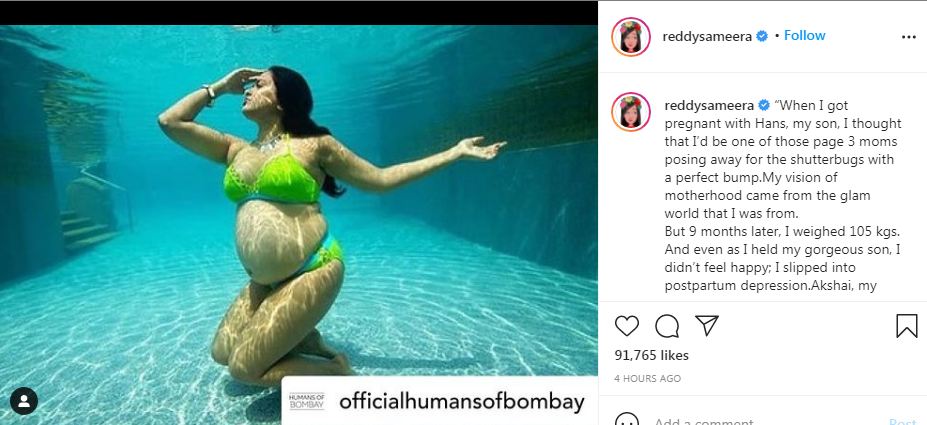 (Photo courtesy: Instagram / Sameera Reddy)
Realizing that this was a major problem, Sameera consulted a doctor and talked about all her problems. From an overweight child to the film industry, he spoke on a wide range of issues. After recovering from all these things, she now finds herself a new person. The actress said, 'Therefore, after being cut off from everything for two years, I have joined social media. Still, I am asked, 'Are you going to be a Yummy Mummy or will you be a bold Sam again? But just to get a follower, I refused to resort to lies! So I started talking about my problems – at first, I was trolled for not looking 'right', but it didn't bother me. And in 2018, when the daughter came in the stomach, I told myself that I will do it my way. '