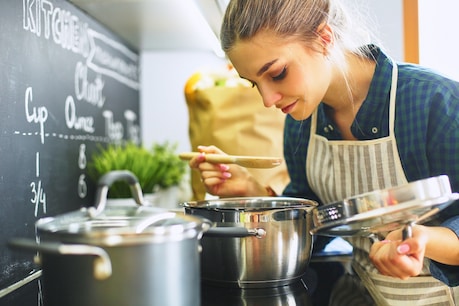 Keep the taste of your food intact with the help of these cooking tips. Image / shutterstock
Cooking Tips: Sometimes while cooking, salt and pepper gets too much and sometimes the vegetables kept black. In this case, some cooking tips can be helpful for you.
Cooking Tips: Most of the time of the women is spent in the kitchen. They wish that whatever they make is best in taste and everyone will also like it. For this, they also make many changes in their cooking skills from time to time. However, sometimes there are some shortcomings or some mistakes are made while preparing the food. Sometimes food gets burnt, sometimes salt or chilli becomes more in it. In such a situation, the water reverts to our hard work. But there is no need to panic, with the help of some cooking tips, you can preserve the taste of your food and increase it. When the salt becomes more Sometimes salt becomes excessive in food and due to this its taste gets spoiled. There is no need to panic for this. You must have seen that our mothers and grandmothers have been adopting this method. Make small tablets of wheat flour and add it to the vegetables for a while. This makes the flour absorb all the salt of the vegetable. This method is also usefulApart from this, you can peel a potato and put pieces of it in a vegetable with high salt. Let it sit like this for some time and then remove it. This potato will absorb the salt from your vegetable and the taste of your vegetable will remain the same. Also read – Kitchen Tips: Bugs will not be found in grains kept at home, these tips will be useful This is how to get rid of pungency
At the same time, chilli gets more in dry vegetables. In such a situation it becomes difficult to eat. For this, fry a little gram flour and then put this dry roasted gram flour in the vegetable. The sharpness of your vegetables will be reduced. Its flavor will also remain there. Vegetables will not turn black If you have shortage of time in the morning, then you can keep the cabbage vegetable cut at night. To avoid it becoming black, put pieces of it in salt water. If there are insects in the cabbage, it will also be removed and there it will be bland, it will not turn black. The dumplings will be crispy If you are fond of pakoras then these tips are for you. When making pakoras batter, add a little rice flour to it, it will make your pakoras crispy, tasty. Also read – Clean your glasses with the help of these tips, will not scratch How to make rice Rice is made almost daily in our homes. In such a situation, while making rice to make them blossom and white, add a little ghee and a few drops of lemon juice to it. You will see the difference yourself.